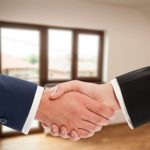 Residential real estate is hot right now – and apartment owners are making money hand-over-fist. But don't worry, I'm not going to recommend you run out and buy an entire complex. Instead, I've got three apartment REITs you can buy from the convenience of your computer (or phone, for that matter!) for yields up to 7.3%.
Rents are now so high nationwide that no one person making minimum wage for 40 hours a week can afford to rent a two-bedroom apartment – a fact driven partly by low minimum pay, but also rising rents.
Not all REITs in the space are buys, of course. Some "blue chip" equity residential names such as Equity LifeStyle Properties (ELS) and AvalonBay Communities (AVB) have soared into the stratosphere, and their valuations have become stretched and their yields have dropped to around 3%. In fact, ELS' yield is just barely beating out the 10-year T-Note right now!
Meanwhile, mortgage REITs like AGNC Investment (AGNC) throw off sizzling yields that can reach into the double digits, but many are at risk of dividend cuts, and rising interest rates will continue to threaten their spreads.
Quality income opportunities in residential real estate are shockingly sparse, but there are three players – yielding up to 7.3% – that are worthy of consideration at the moment.
EdR (EDR)
Dividend Yield: 3.9%
Remember your old off-campus rental house? Broken appliances, jungle lawns and all the amenities of a four-star corrections facility.
That was the college housing of old. Check out the kids' digs now: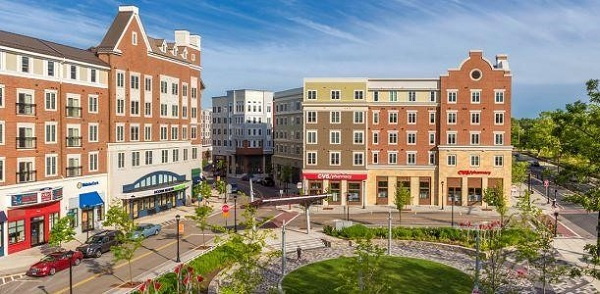 This is the The Oaks on the Square Apartments at Storrs Center, one of the 86 "communities" owned by EdR (EDR), formerly known as Education Realty Trust.
EdR's business, which has been humming along since the 1960s, spans 53 universities in 24 states – and it's expanding. During the past quarter, the REIT broke ground on a 229-bed community (of which EdR will own 70%) near Colorado State University, and won three new on-campus developments with Cornell University, University of South Florida – St. Petersburg and Thomas More College.
The company's first quarter, while mixed, showed a 30% surge in core funds from operations, and its per-share FFO of 60 cents is well more than enough to cover its 38-cent quarterly dividend.
Speaking of which, EdR has consistently raised its dividends since 2009, and is scheduled for another hike sometime this summer. Even a penny-per-share improvement at current prices would put the yield right against the 4% mark – much better than the average yield you'll find in residential equity REITs.
EdR (EDR) Is Giving More Than the Ol' College Try!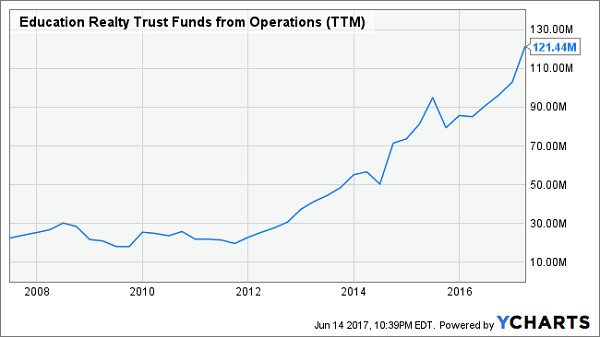 Preferred Apartment Communities (APTS)
Dividend Yield: 5.8%
Preferred Apartment Communities (APTS) is the best of many worlds right now. Shares are fairly valued at about have shot up by 130% over the past five years, showing that this residential REIT can indeed grow. But despite that, shares still are cheap at just 12 times trailing 12-month core FFO, and the stock still yields nearly 6%!
And APTS isn't done climbing.
Preferred Apartment Communities owns and operates multi-family (read: apartment) properties across 24 cities in 12 states, though it also owns several secondary investments, including student housing, office buildings and even mortgages. The company also has a novel operation in that it raises money by selling non-traded preferred shares that help fund future property purchases to keep the growth train chugging.
Get a load of its first-quarter results! Revenues were up nearly 60%. Net income flipped from a 49-cent loss to a 54-cent profit. Core FFO was up more than 20%. Its 22-cent dividend was just 61% of its core FFO, too – that's a well-covered payout!
APTS boasts dividend growth, too, boosting its payout by nearly 50% in just three years.
Preferred Apartment Communities (APTS) Is Rising Faster Than Your Rent!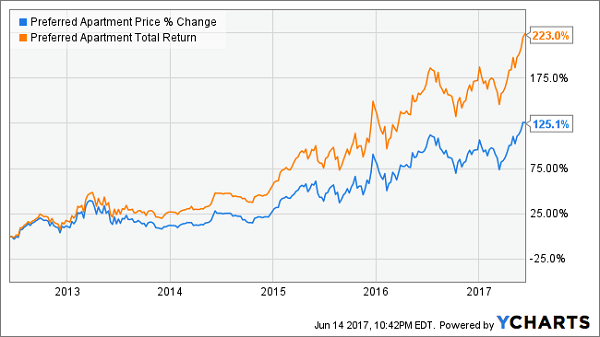 Independence Realty Trust (IRT)
Dividend Yield: 7.3%
Last up is a real dividend powerhouse, Independence Realty Trust (IRT).
Independence Realty Trust also invests in apartment properties, with a focus on high-occupancy markets and buildings that are either already well-maintained and modern, or ones that can be renovated to squeeze out better rents.
It sounds like a REIT that's focused on the East Coast, or only major metro centers around the U.S. – think Los Angeles, Chicago and Washington, D.C. But IRT's 12,750 apartment units across 46 communities are actually predominantly located in the Southeast and Midwest. Many of its markets are "non-gateway," which have fewer big-time competitors – a boon that keeps IRT from having to compete on price. Moreover, the company is currently in the process of selling off its remaining lower-tier properties to improve its positioning long-term.
I'll point out that the dividend coverage is OK, but not great, at about 94% of forecast core FFO of 76 cents per share this year. But the yield north of 7% is just right, and the valuation is plenty reasonable at around 14 times core FFO.
Cities like Tampa and Columbus might not sound as lucrative as NYC or San Francisco, but IRT is turning them into productive cash machines.
Independence Realty Trust (IRT) Isn't Glamorous, But It's Growing!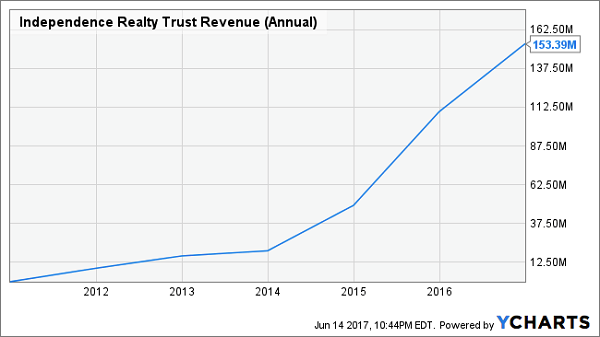 Live Off Dividends Forever With This "Ultimate" Retirement Portfolio
Finding the perfect blend of yield, dividend growth and capital gains is downright frustrating. Fad stocks grow like weeds but can implode at a minute's notice and leave you holding the bag. Mega-cap blue chips offer security and some income … but those dividends aren't enough to pay your regular bills in retirement, and many of those payouts don't even grow enough to outpace inflation!
The only way to actually live out your retirement in comfort is to invest in so-called "triple threat" dividend payers that offer the whole enchilada. These stocks with big, growing dividends that also have the potential for double-digit price returns will allow you to live off income alone without ever touching your nest egg!
You need the "ultimate retirement stocks" that fuel my 8%-yielding "No Withdrawal" retirement portfolio!
My "No Withdrawal" portfolio guarantees that you won't have to settle for less during the most important years of your life by providing an 8% yield you can live off while growing your nest egg. While it took several months of digging through a number of high-dividend duds, I've weeded out the yield traps and come up with an "ultimate" dividend portfolio that provides you with …
No-doubt 6%, 7% even 8% yields – and in a couple of cases, double-digit dividends!
The potential for 7% to 15% in annual capital gains
Robust dividend growth that will keep up with (and beat) inflation
This portfolio will let you live off dividend income alone without ever touching your nest egg. That means you can pay all of your monthly bills without ever worrying about wrecking your retirement account if disaster strikes.
Let me show you the path to the retirement you deserve. Click here and I'll provide you with THREE special reports that show you how to build this "No Withdrawal" portfolio. You'll get the names, tickers, buy prices and full analysis of their wealth-building potential – and it's absolutely FREE!
Category: REITs