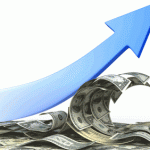 Keeping an eye on weekly ETF inflows and outflows is a smart thing to do.  They give you a ton of insight into what investors are thinking.
And by following these trends, you can quickly and easily get a sense for which areas of the market are gearing up for a rally and which are poised for a downturn.
Last week, US and International equity ETFs were the clear cut asset class winners with combined inflows of just over $3 billion.  Commodity ETFs saw the most selling with outflows of $1.7 billion.
With that said, let's take a look at three stock ETFs that saw a big uptick in buying last week.
iShares Dow Jones US Real Estate ETF (IYR)
IYR was the big investor favorite last week with net inflows of $414 million.  That's an impressive 8.3% increase over the prior week's levels.
Investors snapped up shares of IYR after the January Core CPI, a key measure of inflation, showed a hefty 0.3% increase.  While a single monthly increase does not a trend make, investors clearly began getting into IYR as a potential inflation hedge.
Of course, real estate tends to perform well in an inflationary environment.
IYR is a great way to add exposure to the real estate market.  It attempts to track the price and yield performance, before fees and expenses, of the Dow Jones US Real Estate index. 
The fund's top holdings include Simon Property Group (SPG), American Tower (AMT), Public Storage (PSA), HCP (HCP), and Ventas (VTR).  IYR is up over 4% year-to-date and sports a current yield of 3.6%.
iShares MSCI Japan (EWJ)
EWJ saw the second most inflows of all equity ETFs last week with new creations totaling nearly $194 million.  Assets under management rose 3.3%.
Investors are quietly shifting into EWJ following the election of new Prime Minister Shinzo Abe.  Many believe Mr. Abe will pursue more aggressive monetary and fiscal policies which will boost Japan's stagnant economy and finally eliminate deflation altogether.
If this outlook is accurate, we could be at the very beginning of a multi-year bull market for EWJ.
The fund seeks to track the price and yield performance, before fees and expenses, of the MSCI Japan Index.  EWJ's top holdings include Toyota Motor Corp (7203), Mitsubishi UFJ Financial Group (8306), Honda Motor Corp (7267), Sumitomo Financial Group (8316), and Mizuho Financial Group (8411).
The fund has gained 2.3% since the beginning of the year, and it offers a yield of 1.9%.
SPDR S&P Retail (XRT)
XRT experienced a buying surge last week with net inflows of over $190 million.  The heavy buying bumped the fund's assets up by an impressive 25.7%.
Investors are piling into XRT as expectations for a stronger growing US economy take hold.  The belief is that a faster growing economy will lead to increased consumer spending and a better employment picture.
If they're right, we should see strong gains in XRT going forward.
The S&P Retail ETF seeks to provide investment results that, before fees and expenses, track the total return performance of an index derived from the retail segment of a US total market composite index.  The fund's top holdings include Netflix (NFLX), Rite Aid (RAD), SuperValu (SVU), Best Buy (BBY), and AutoNation (AN). 
XRT is up 7.5% so far this year, and the fund's yielding 1.54%.
Profitably Yours,
Robert Morris
Category: ETFs, Foreign Market ETFs, Sector ETFs, What's Going On?