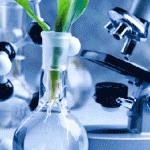 Biotech stocks are soaring, confirming the bottom is in place. Much of this increase has been driven by a renewed interest in M&A. Biotech analyst Bret Jensen reveals four stocks on his short list of takeover targets that could get bought for nice premiums to current share prices.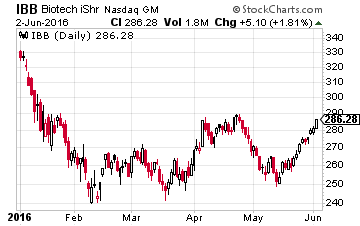 Biotech has gone a real tear over the past three weeks after making several "false starts" over the past several months as it emerges from an immense bear market that began late in July of last year. This move feels more real than previous bounces as it has been accompanied with a measurable uptick in mergers and acquisitions (M&A).
Numerous small and mid-cap biotech companies have been bought out at substantial premiums to where their stocks were previously trading at before receiving offers. Celator Pharmaceuticals (NASDAQ: CPXX), Xenoport (NASDAQ: XNPT) and Anacor Pharmaceuticals (NASDAQ: ANAC) were all acquired in recent weeks for at least a 55% premium to where their stocks were trading at previously. AbbVie (NYSE: ABBV) also acquired privately held Stemcentrix for almost $6 billion in May as well.
This activity should continue to perk up and could turn into a "feeding frenzy" if pursuits of large mid-caps like oncology concern Medivation (NASDAQ: MDVN) turn into full-fledged bidding wars. Large biotech and pharma players need to replenish their pipelines and they are flush with cash. In addition, major mergers seem to be a "no-no" currently with regulators after the U.S. Treasury Department derailed the mega-merger between Allergan (NYSE: AGN) and Pfizer (NYSE: PFE) in April. Bargains in the small and mid-cap space also abound after the sector's recent deep bear market. In short, the M&A genie appears to be back out of the bottle for the resurgent biotech sector, which should bode very well for future capital appreciation.
So which mid-cap and small cap stocks should you be watching?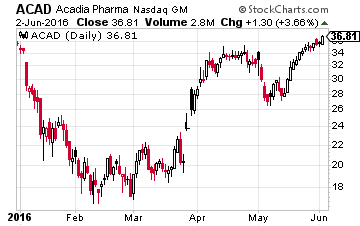 Let's start with Acadia Pharmaceuticals (NASDAQ: ACAD), whose shares I have held through most of 2016. The stock is up some 80% since the FDA gave Acadia the green light to market the first approved treatment for the psychosis found in some 40% of Parkinson's patients. Even with the recent run-up, the stock sports a market capitalization just north of a $4 billion, a bite size chunk for a larger industry player.
The firm's compound "Nuplazid" has billion-dollar potential just for the approved Parkinson's indication. However, it is also in late stage testing to treat the psychosis found in Alzheimer's and Schizophrenia populations as well. Approval in these areas could easily push peak annual sales past the $3 billion mark. The most logical acquisition partner is biotech giant Biogen (NASDAQ: BIIB) which recently announced it was shedding its hemophilia business via an upcoming spinout. Biogen has stated it wanted to expand its presence in neurology, so this combination does seem a marriage made in heaven.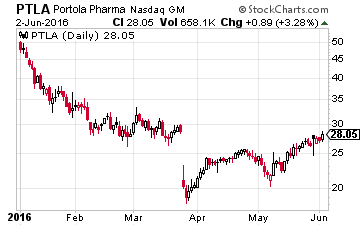 Going down in size a bit with $1.5 billion market capitalization Portola Pharmaceuticals (NASDAQ: PTLA) which already has been linked to Pfizer and other drug giants as a possible acquisition target. The company has an antidote candidate for the new type of Factor XA inhibiting anti-coagulants called "ANDEXXA", which the FDA should approve in August. It also has its own Factor XA inhibitor "Betrixaban" in late stage trials. With $400 million in cash on hand, Portola could certainly continue to develop its pipeline on its own. However, a pairing with an industry heavyweight with an established salesforce seems like an accretive union that is at least a possibility.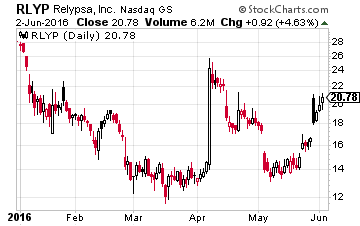 My regular readers know that I continue to think Relypsa (NASDAQ: RLYP) is one of the most likely take out targets in the small cap part of this sector. In late May, its primary possible competitor in the hyperkalemia market "ZS-9" got a complete response letter from the FDA which probably will knock its debut into the market back into the first half of 2017. This means the company's drug "veltassa" will have over a year to establish itself as the only new product in decades in this billion dollar plus market for at least a year. Sanofi (NYSE: SNY), Merck (NYSE: MRK) and others have consistently been rumored to have interest in acquiring Relypsa and this latest event could prove the impetus to accelerate purchase negotiations.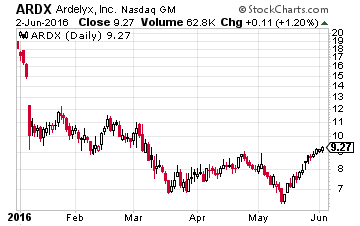 Finally, we have recent Biotech Gems portfolio addition Ardelyx (NASDAQ: ARDX) which has been on a nice little roll in recent weeks and just broached a $300 million market capitalization; $180 million of which is cash on the balance sheet. The company is focused on developing innovative, small molecule therapeutics that work exclusively in the gastrointestinal Tract ('GI') tract to treat GI and cardio-renal disease.
Ardelyx has two drug candidates in late stage trials and could file as many as three New Drug Applications (NDAs) by the end of 2017. What it doesn't have is an established sales force. Allergan seems a logical suitor. Since its merger with Pfizer was called off, the company has pledged some $10 billion to buy back its own stock. Allergan has also stated it would focus its acquisition efforts on small or "tuck in" purchases in the four areas of the market it wants to expand its product offerings. One of those areas happens to be the GI space making Ardelyx a possible target that would make sense given its late stage pipeline.
Category: What's Going On?