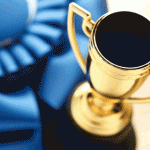 What a week for the Dow Jones Industrial Average!
As the opening bell sounded on Tuesday, the popular stock market index surged past the highest closing price ever recorded in its 117 year history.  And after it made this historic move, it never looked back.
The Dow finished the day with a new all time high closing price of 14,253.  And it has since set new record highs every day this week.
As I write, the Dow's gained nearly 2% for the week.
It should come as no surprise then that US stock ETFs have had the largest net inflows of any asset class this week.  All in all, investors have poured an impressive $4.6 billion into stock ETFs.
Commodity ETFs, on the other hand, have not been quite so fortunate. 
These funds have had net outflows of $822 million for the week.  However, the vast majority of those outflows were from just two gold ETFs.
The SPDR Gold Shares (GLD) alone saw $580 million go out the door.  And investors pulled another $215 million out of the PowerShares DB Gold ETF (DGL).
As you might imagine, this week's top performing ETFs are in the stock ETF category.
One big winner is the SPDR S&P Biotech ETF (XBI).  The fund's up 5.9% so far this week.  And it has gained just over 14% year-to-date.
Investors are piling into XBI after the Fed said it will continue pumping liquidity into the financial system.  The Fed's dual policy of ultra-low interest rates and quantitative easing have emboldened investors to push the envelope when it comes to taking risk in the stock market.
Biotechnology stocks are considered some of the most aggressive stocks an investor can buy.
Another top performer for the week is the Guggenheim Airline ETF (FAA).  This fund has tacked on a gain of 5.5% for the week.  And it's now sporting a hefty 22% gain so far in 2013.
Investors are snapping up shares of FAA as a bet on the US economic recovery.  The rationale behind this move is that a growing economy will spark more airline travel for both business and pleasure. 
As such, airlines are about as pure a play as you can make on a cyclical recovery in the economy.
Here's the upshot…
You may want to take a closer look at these ETFs for your own portfolio.  While they've posted big gains already in 2013, these ETFs are playing trends that could last for a few years.  If so, then these ETFs are still in the early stages of a longer-term uptrend.
Profitably Yours,
Robert Morris
Category: Commodity ETFs, ETFs, Market Analysis, Sector ETFs, What's Going On?