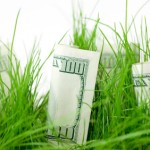 These three stocks have beaten the S&P 500 over the last five years, have pristine multi-decade track records of dividend growth, and safe businesses that will continue to print cash for shareholders. But, you will never hear about them on CNBC. Here are the top three underrated safe dividend stocks. 
Dividends matter more than you might think.
Consider the S&P 500, which is up 55% over the last 10 years. When you include dividends, however, the total return for the S&P 500 is 92%. For the last 25 years, that difference is even greater with the S&P 500 up 440%, but the total return with dividends is 805%.
Digging even deeper, it's not only the dividend yield that matters. Investors can do better by focusing on certain dividend qualities.
Since inception in 2006, the Vanguard High Yield ETF (NYSE: VYM), which focuses on just high yielding stocks, has returned a mere 34%.
Stocks that have steadily increased their dividends have widely outpaced high-yielders. The Vanguard Dividend Appreciation ETF (NYSE: VIG) is up 57% since 2006. Instead of worrying about how high the yield is, the Vanguard Dividend Appreciation ETF focuses on the quality of the dividend.
There's a number of stocks out there that have a history of 25 years or more of dividend increases. These stocks are known as Dividend Aristocrats. This includes AT&T (NYSE: T),which has a 31-year streak of dividend increases, and offers a 5% dividend yield. Or AbbVie (NYSE: ABBV), the 4% yielding healthcare company that has upped its dividend for 43 years.
Instead of focusing on the well-known dividends like AT&T and AbbVie, it's the obscure dividends that could offer the most value.
We've dug through the Dividend Aristocrat list and found the best of both worlds, stocks with a consistent history of dividend increases and high yields. But that's not all, we also narrowed our list to stocks that are safe and stable.
Meaning, they can continue to grow their dividend and stock price regardless of the economic backdrop. The three stocks below offer dividend yields in excess of 3.5% and have a 30-plus year streak of dividend increases.
These are stocks you won't hear about on CNBC, and yet all three have managed to outperform the S&P 500 over the last one- and five-year periods.
With all that in mind, here are the top three underrated safe dividends:
Underrated Safe Dividend No. 1: Mercury General (NYSE: MCY)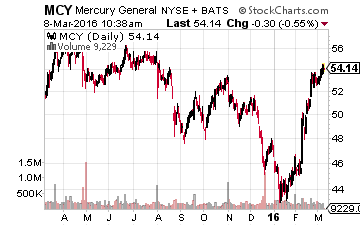 Mercury General is an insurance company that operates primarily in California. Its primary business is auto insurance coverage. The insurer generates close to $3 billion a year in premiums, growing 6% year-over-year in 2015. It only operates in 12 other states besides California.
Now, insurance isn't a sexy business, but a steady one nonetheless.
This is a big reason that Warren Buffett has been able to make timely acquisitions throughout history. The cash his insurance businesses generate, including GEICO, give hisBerkshire Hathaway (NYSE: BRK-A) plenty of "dry powder."
But, most insurance companies don't have the same flexibility. Rather, they use their cash to pay dividends. Mercury General has managed to up its annual dividend each year for the last 30 years. It's currently paying investors $2.48 per share — good enough for a 4.6% dividend yield.
Underrated Safe Dividend No. 2: Old Republic International (NYSE: ORI)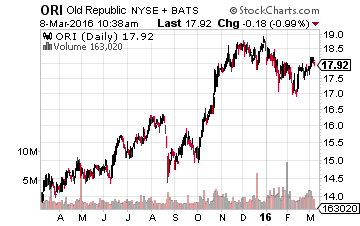 Old Republic is another insurance company, focusing on the property and casualty business operating in the US and Canada. It's managed 34 years of consecutive dividend increases, and the $0.75 per share that it pays comes out to a 4.15% dividend yield. It's also paying out just 50% of its earnings via dividends.
Old Republic has a number of insurance lines including auto, home, travel, and workers' comp. Its exposure to the commercial business is especially enticing because it should benefit from a strengthening US economy.
Underrated Safe Dividend No. 3: Vectren Corporation (NYSE: VVC)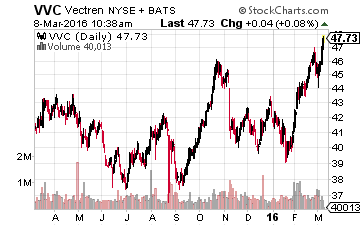 Vectren isn't an insurance company, but it operates in an industry that's just as steady and stable — utilities. It offers a $1.60 annual dividend, a 3.5% dividend yield, and boasts a 56-year streak of consecutive dividend increases. Vectren's payout ratio is just under 65%.
Now, Vectren provides energy services to residential, commercial, and industrial customers. You can always count on regulated utilities for mid- to high-single digit steady earnings growth.
But, the utility industry has been getting even more enticing for investors because regular price increases for operators are becoming the norm. Vectren should benefit from an electric distribution rate increases this year.
In the end, it takes a little more work, but finding the obscure dividends are certainly worth it. The three above are great places to start as they offer relatively high yields and have a history of rewarding shareholders.
Finding stable companies that regularly increase their dividends is the strategy that my colleague Tim Plaehn uses to produce superior results, no matter if the market moves up or down in the shorter term. The combination of a high yield and regular dividend growth is what has given him the most consistent gains out of any strategy that he has tried over his decades-long investing career.
And, there are currently over twenty of these stocks to choose from in his Monthly Paycheck Dividend Calendar, an income system used by thousands of dividend investors enjoying a steady stream of cash.
The Monthly Dividend Paycheck Calendar is set up to make sure you receive a minimum of 5 paychecks per month and in some months 8, 9, even 12 paychecks per month from stable, reliable stocks with high yields.
If you join his calendar by Thursday, March 10th you will have the opportunity to claim an extra $4,179.80 in dividend payouts by Tax Day (April 18th).
The Calendar tells you when you need to own the stock when to expect your next payout, and how much you can make from stable, low-risk stocks paying upwards of 12%, 13%, even 15% in the case of one of them. I've done all the research and hard work; you just have to pick the stocks and how much you want to get paid.
The next critical date is Thursday, March 10th (it's closer than you think!), so you'll want to take action before that date to make sure you don't miss out. This time, we're gearing up for an extra $4,179.80 in payouts by April 18th, but only if you're on the list before the 10th. Click here to find out more about this unique, easy way of collecting monthly dividends.
Category: Dividend ETFs