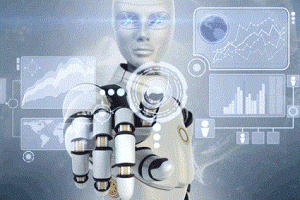 The two ETFs I like are the Global X Funds Robotics & Artificial Intelligence ETF (Nasdaq: BOTZ) and the ROBO Global Robotics & Automation Index ETF (Nasdaq: ROBO). I am very positive on both of these ETFs and have previously recommended them to investors.
As you might surmise, there are a lot of similarities between the two funds as they both focus on what we might generally call robotics and automation.
But there are subtle differences. ROBO is older with an inception date of 10-22-2013, while BOTZ came to market on 09-12-2016. BOTZ is more liquid than ROBO with 88.9 million shares outstanding and an average trading volume of about two million shares a day. That compares with ROBO's 53 million shares outstanding and average daily trading volume in the range of 700,000 shares.
BOTZ does have an edge when it comes to expenses with a lower expense ratio than ROBO – 0.68% versus 0.95% – which factors into the long-term performance of any fund or ETF.
Portfolio Differences
Most important, of course, when comparing the two ETFs is the difference in their portfolios. And here BOTZ has a more concentrated portfolio with only 29 stocks versus the 93 stocks in the ROBO portfolio. That will likely make it somewhat more volatile and risky.
If you look at the geographic exposure of the two funds – with my preference for exposure to the leaders in the industry, which are Japanese – here BOTZ has the upper hand with about 50% of the fund in Japanese stocks versus only 28% for ROBO.
However, when it comes down to the actual stocks in the portfolios, both are outstanding. That's why I'm adding both to our own portfolio. Here are the top 10 positions for each ETF:
Top 10 Positions for the Global X Robotics & Artificial Intelligence ETF
 Nvidia
 Yaskawa Electric (Japan)
 Fanuc Corporation (Japan)
 Keyence Corporation (Japan)
 Intuitive Surgical
 Mitsubishi Electric (Japan)
 ABB Ltd. (Europe)
 SMC Corporation (Japan)
 Daifuku Company Ltd. (Japan)
 Omron Corporation (Japan)
Top 10 Positions for the ROBO Global Robotics & Automation Index ETF
 iRobot
 Daifuku Company Ltd. (Japan)
 IPG Photonics
 Nabtesco Corporation (Japan)
 Hiwin Technologies (Taiwan)
 Yaskawa Electric (Japan)
 Fanuc Corporation (Japan)
 Intuitive Surgical
 Mazor Robotics
 Oceaneering International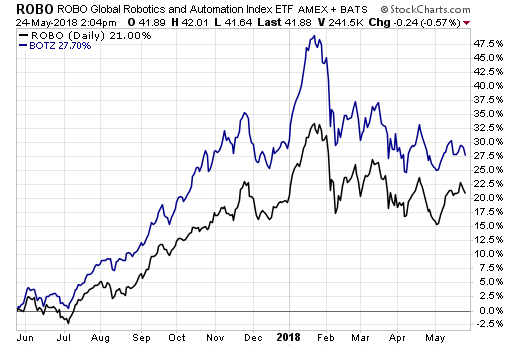 Over the past year, BOTZ returned 27% while ROBO gained 21%, both easily outperforming the S&P 500 index. As you can see, they were both on a tear and shot up too fast right before the February correction. They've since dropped back down in what one might call consolidation. With the bright future I see for the robotics industry, I expect the outperformance to start again and to continue for many years.
[TRENDING NOW]: This 36-Month Accelerated Income Plan Pays Your Bills For Life
One simple plan takes minutes to set up, yet could pay all your bills for life. No longer will your mailbox be stuffed with 'payment due' envelopes.
This is our most powerful plan we've ever put together…and nearly 7,000 retirement investors have already used its recommendations.
There is still time to start generating $4,804 per month for life…but the window is closing. Click here for complete details.
Category: ETFs
Tony is a seasoned veteran of nearly all aspects of investing. From running his own advisory services to developing education materials to working with investors directly to help them achieve their long-term financial goals. Tony styles his investment strategy after on of the all-time best investors, Sir John Templeton, in that he always looks for growth, but at a reasonable price. Tony is the editor of Growth Stock Advisor.