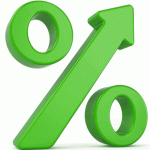 Investing in an accelerating dividend is one of the best ways to consistently increase your wealth over the long-term. With these three stocks having a long history of dividend growth and expected pay increases coming in May, now is a great time to add them to your portfolio.
Dividend growth is the driving force of successful and profitable income stock investing. The announcement of a dividend increase provides several benefits to the health of your brokerage account. Often you can get an early jump on some share price gains if you buy shares before the next increase is announced.
I maintain a database of about 140 real estate investment trusts (REITs) that helps me track dividend changes and yields. About two-thirds of the REITs on my list have histories of regular dividend increases. Most of these companies announce their new dividend rate at the same time each year, and then pay the new rate for the next four quarters.
I have found that most of the investing public is not aware of the actual timing of dividend increases from different companies. As a result, the announcement of a new higher payout rate comes as a positive surprise that often lifts the share price by a significant amount. If you buy a stock a few weeks before the announcement of a dividend boost, you could get the double benefit of a nice share price gain and a higher dividend cash flow income going forward.
There are REITs that increase their dividend payments in almost every month of the year. In July, two companies should announce higher dividend payments for the following four quarters.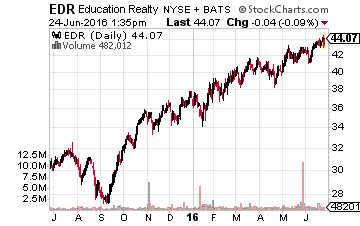 Education Realty Trust, Inc. (NYSE:EDR) is one of the nation's largest developers, owners, and managers of high-quality collegiate housing communities. Currently, the company owns or manages 73 communities with 40,000 beds, serving 53 different universities. In 2015, EDR increased its total assets by 14%. Last year, the dividend was increased by 2.8%, which is significantly less that the growth in the previous few years. The company restructured its equity vs. debt balance last year, which led to lower FFO per share growth.
Cash flow growth resumed in the 2016 first quarter, with FFO per share showing an 8% year over year gain. Q1 FFO was $0.54 per share compared to the current $0.37 dividend rate. I expect a dividend increase of 5% to 6%. The new dividend should be announced on July 15 with an end of July ex-dividend date and a mid-August payment date.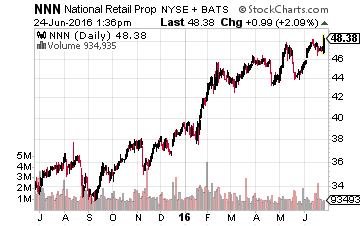 National Retail Properties (NYSE:NNN) invests in single tenant net-leased retail properties throughout the United States. Net-lease REITs typically have long-term, 10 to 20 year long, lease contracts with high-quality client companies. Net leases have built-in rent escalators that provide growing cash flow to support dividend increases.
NNN owns a wide range of property types including convenience stores, restaurants, family entertainment centers, banks, and auto parts stores. Net lease REITs are viewed as having some of the safest cash flow in the commercial property sector, and National Retail Properties has rewarded investors with 26 consecutive years of dividend increases.
Last year, the NNN dividend was increased by 3.7%. Management guidance has FFO per share growing by 5.5% in 2016, so the increase should be somewhat larger this year. Historically, the company announces a new higher dividend rate on July 15, with an end of month ex-dividend date and a payment date in mid-August.
Finding stable companies that regularly increase their dividends is the strategy that I use myself to produce superior results, no matter if the market moves up or down in the shorter term. The combination of a high yield and regular dividend growth is what has given me the most consistent gains out of any strategy that I have tried over my decades-long investing career.
And, there are currently over twenty of these stocks to choose from in my Monthly Paycheck Dividend Calendar, an income system used by thousands of dividend investors enjoying a steady stream of cash.
The Monthly Dividend Paycheck Calendar is set up to make sure you receive a minimum of 5 paychecks per month and in some months 8, 9, even 12 paychecks per month from stable, reliable stocks with high yields.
Category: REITs