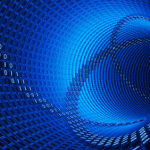 Today I'm going to show you three funds that are clobbering the market while throwing off a princely income stream.
These three funds have all gained 30% so far in 2017, even though the market is up a more modest (but still solid) 10%. And thanks to their skilled management teams and the exploding corners of the market they play in, they still have plenty of room to run.
The best part: between them, they pay an average 6.5% dividend! And thanks to their strong outperformance, those payouts are going to keep flowing to shareholders.
So you could buy all three of these funds, get a huge passive income stream now and position yourself for strong capital gains, thanks to the steady growth in these funds' net asset values (or the value of their underlying holdings).
3 CEFs Powered By Rising Trends
All three are closed-end funds (CEFs) that invest in very different things.
The first is the BlackRock Science and Technology Trust (BST), which has some strong-performing positions in Facebook (FB), Alibaba (BABA), Avago Technologies (AVGO), Salesforce (CRM), Visa (V) and Mastercard (MA).
Thanks to this fund's focus on these tech juggernauts and the famous FAAMG stocks—Facebook, Apple (AAPL), Amazon (AMZN), Microsoft (MSFT) and Google, now known as Alphabet (GOOG)—BST is up an amazing 36.7% so far for 2017:
BST Rides the Tech Boom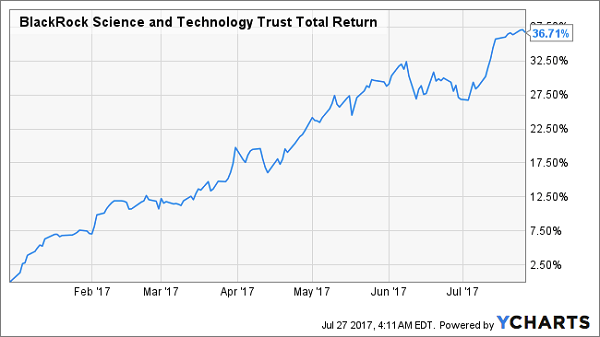 If you've read my previous articles, you may remember that I recommended BST a month ago, just when its bull run took a bit of a breather; it's now up 5.7% since my call.
My second fund is up a similarly impressive 33.2% for 2017, although it's a different beast; the Macquarie Global Infrastructure Total Return Fund (MGU).
It focuses on, well, infrastructure, but with an international approach that takes currency and economic growth into consideration. That's why MGU is up so much while still paying a nice 5.9% dividend:
Profiting From the Global Build-Out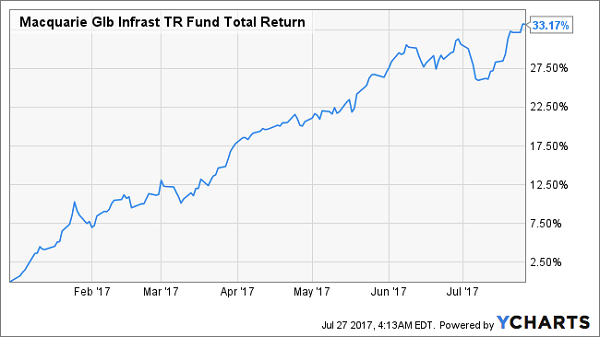 Buying MGU now may not be as good as buying it in March when I first recommended it (it's up 15.9% since then), but it can still roll higher thanks to a reprieve in oil costs and a weaker US dollar.
Finally, why not consider a fund that yields 7.9%? That's what you get when you drop some cash into the Columbia Seligman Premium Technology Growth Fund (STK), which is up 28.8% since the start of 2017—while still paying out that massive dividend:
Another Tech Star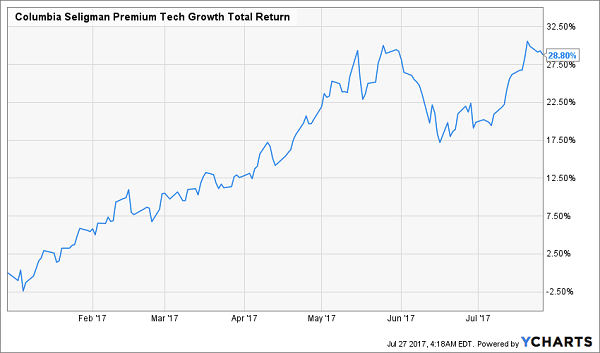 Notice how we have a bit more of a pause in STK's bull run compared to the other two picks? That makes this fund much more attractive now. I first recommended it a couple weeks ago, and it's up only 1.6% since then. That means there's room for plenty more upside as this fund narrows the gap with its tech-focused cousin BST.
Retire in Style With 12% Annual Returns For Life!
Wall Street is littered with high-yield death traps whose payouts are just a couple years away from vanishing. It's also full of blue chips that offer loads of safety, but no room for growth and dividends that simply aren't enough to pay the bills in retirement. That's why I've been buried in data for months now, tracking down the kind of portfolio that offers the high current yield, dividend growth track and capital gains potential possible to reach double-digit returns.
The result is my "12% for Life" portfolio.
This set of stock picks will reap at least 12% in annual returns – which is what you need to ensure the kind of no-worries retirement you've been busting your hump to achieve for the past few decades. And as you might imagine, this isn't your garden-variety dividend portfolio.
Forget popular pundit picks like Exxon Mobil, Coca-Cola or any other "safe" blue chips that offer no growth and less-than-generous yields. Instead, you're going to find …
A stock that has already boosted its dividend payments more than 800% over the past four years, and has at least another decade of double-digit growth left in the tank!
A "double threat" income-and-growth stock that rose more than 252% the last time it was anywhere near as cheap as it is right now!
A 9%-plus payer that raises its dividend more than once a year, and will double its payout by 2021 at its current pace!
Let me show you how to earn the double-digit returns you need to enjoy retirement at its fullest. Click here and I'll GIVE you three special reports that show you how to earn 12% for life. You'll receive the names, tickers, buy prices and full analysis for seven stocks with wealth-building potential – completely FREE!
Category: Closed-End Funds (CEFs)