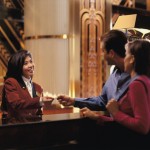 Even as profits and dividends grew in 2015, share prices fell for these three high-yield REITs. With future dividend increases still in the cards and profit growth continuing throughout 2016, buying these three safe income stocks is a smart investment.
In 2015, the markets soured on the hotel/lodging REIT subsector. Even as the benchmark Dow Jones U.S. Hotel & Lodging REITs Index dropped by 50% from January 2015 to January 2016, hotel REIT profits continued to grow. The market is starting to see the error of its ways, and lodging REIT share prices are moving higher. Couple these share price gains with the upcoming announcement of dividend increases and these stocks offer compelling total return potential.
The lodging group is the most economically sensitive of the different commercial real estate sectors. When the economy is doing well, higher room demand allows hotels to increase occupancy and room rates. Those higher rates generate additional cash flow that drops right to the bottom line. Since coming out of the 2007-2009 Great Recession, hotel business has been robust and lodging REITs have reported growing profits and significant dividend increases.
Investors in lodging REITs did very well from 2010 through January 2015. Over that period, the U.S. Hotel & Lodging REITs Index gained more than 600%. Then, in January 2015, the market started to believe the run for hotel REITs was over and the sector went through a sell-off lasting one year. But, even as share prices were falling, profits and funds from operations (FFO) per share continued to grow through the full year 2015. My database of 15 hotel/lodging REITs reported an average 18% FFO per share increase in 2015 compared to 2014. Those are pretty good numbers by any measure. Those companies that have provided 2016 guidance are shooting for high single digits to low teens FFO growth this year. With yields averaging around 6%, cash flow and potential dividend growth of 8% to 12% looks very attractive.
The best management teams in the group also understand that their revenues will be variable, so they keep dividend to FFO payout ratios low. While industrial and triple net REITs will payout 70% to 90% of FFO, the hotel REITs, typically pay out 60% or less. This gives a nice cushion to make sure the dividend will be sustained. Here are three lodging REITs that have already announced higher dividends for 2016, putting more cash in your pocket.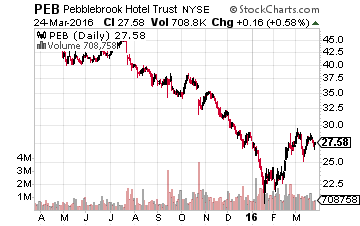 Pebblebrook Hotel Trust (NYSE: PEB) acquires and invests in upper scale, full-service hotel and resort properties located in or near urban markets in major United States gateway cities. The company has recently announced a new dividend rate that is 23% higher than the dividends paid in 2015. Management is forecasting at least 10% AFFO per share growth this year, so another increase should come next March. PEB yields 5.5%.
Related: Gain FREE access to a new system for booking safe 16% returns every year.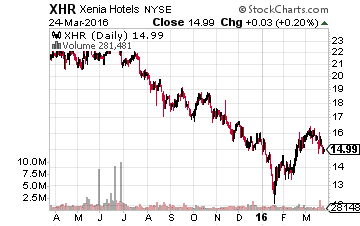 Xenia Hotels & Resorts Inc. (NYSE: XHR) invests in premium, full-service, lifestyle, and urban upscale hotels. Xenia entered the market with a February 2015 IPO and generated 33% FFO per share growth in its first year as a public company. The company just announced a 20% increase in its dividend rate. Xenia has an aggressive growth plan and should generate at least mid-teens FFO growth, maybe higher. XHR yields 7.3%.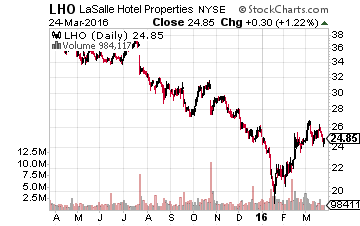 LaSalle Hotel Properties (NYSE: LHO) owns, redevelops, and leases upscale and luxury full-service hotels located in convention, resort, and urban business markets. The company increased its dividend by 20% in April 2015. FFO per share in 2015 was up 10% compared to 2014, so I am expecting an 8% to 10% dividend increase to be announced in April 2016. LHO yields 7.3%.
With the lower share prices compared to a year ago, these hotel REITs have both yields and projected dividend growth rates that are well above the overall REIT sector averages.
Finding stable companies that regularly increase their dividends is the strategy that I use myself to produce superior results, no matter if the market moves up or down in the shorter term.
The combination of a high yield and regular dividend growth is what has given me the most consistent gains out of any strategy that I have tried over my decades-long investing career.
I call this system Accelerating Dividends and with it you can double your money in as little as four and a half years from safe dividend stocks just like I'm doing.
You probably already know there are about 3,000 U.S. stocks that pay dividends, with some yielding 12%+ per year.
But it's not the size of the dividend that counts, it's whether those dividends are sustainable and rise over time, like the ones mentioned above.
And that's the difference between just risking everything in the stock and doubling your money and creating a consistent, dependable income stream.
My new investor briefing reveals the simple to use strategy behind Accelerating Dividends that shows you how to identify stocks that pay sustainable dividends with a track record of increasing frequently – no matter what the market does.
Click here to find out more about this new system for increasing your income every year, every quarter, even every month.
Category: REITs