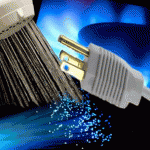 I love utility stocks for their stability and high dividends, but sometimes you have to let go of what you love – especially when things get a bit crazy.
And the insanity many investors are facing now is that many utility stocks have soared in 2016 and far outperformed the S&P 500, even when you exclude their massive dividends. These price gains crushed yields – which is why investors should ring the register, sell these stocks and redeploy profits into better yielding alternatives.
Let's talk about three regional utility that have soared more than 30% over the past year. A great return, but the charts also tell me that we're reaching a top and there may be little room for these utility stocks to go further.
An Incredible Year for Utility Stocks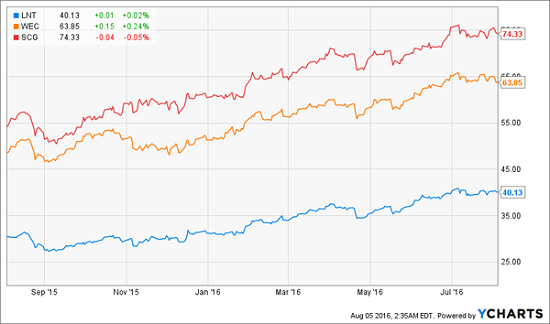 The three utility stocks I'm looking at are Alliant Energy Corporation (LNT), SCANA Corporation (SCG), and WEC Energy Group (WEC). Diversified energy providers in the midwest and south, these companies have dividend track records going back decades, and strong operating margins (over 20%) that qualify them as cash generating machines for income hungry investors.
I recommended fast-growing utilities five months ago when these yields were higher. But now that their yields have dropped towards 3% and there are gains of 30% to be realized, it makes sense to move along.
Utilities are up a whopping 18.9% year-to-date in the index, which is over 6 percentage points better than the second top-performing sector:
Utilities the Top Performer by Far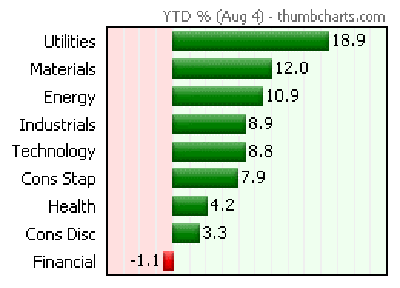 This has helped the Utilities SPDR (XLU) soar 17% in 2016, while its dividend yield has fallen to 4%. And the Energy Select Sector SPDR (XLE) tells a similar story: it's up 12% in 2016, while its yield is down to 3.6%. Clearly, utilities are on a massive bull run. In fact, 2016 may be remembered as the year that utilities went up like a rocket. That's great right now, but will it be great if we hold next year as well?
To answer that question, let's look at one more chart:
Investors Paying More for Future Earnings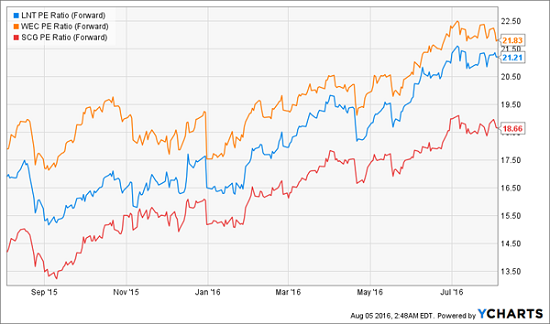 This is the forward P/E ratio for these three stocks. Note how they all move nicely in unison, almost mirroring each other. That's because utility companies often have little idiosyncrasies—the amount of energy consumed might vary between Chicago and Tennessee, for instance, but the utility company providing that energy will not have a radically different business model in either location. This is why regional utility stocks often trade together.
Additionally, demand for regional utilities often has more to do with desire for income than with market perceptions of growth. Back in the 1990s and early 2000s when U.S. Treasury interest rates were much higher, these stocks remained mostly flat. The massive bull run for utilities only came in 2009 and onwards, when U.S. Treasury rates plummeted and income-hungry investors sought alternatives:
Treasury Yields Down, Utilities Up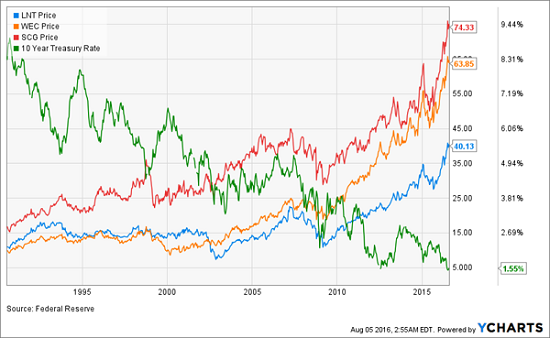 With the 10-year Treasury yielding just 1.55%, it's no surprise that investors are jumping heavily into this traditionally safe, high yielding sector.
Bottom line: Utility stocks are now overpriced, and they are highly vulnerable if interest rates merely tick higher. There are safer places for higher yield today.
I'd rather avoid this drama. After all, utility stocks are supposed to be safe, right? But that means investors need to sell these stocks and get safe dividends of 4.0% or more in alternatives. That doesn't sound easy, and in today's record-smashing market, it's not as easy as it used to be.
But it is easy, if you know where to look.
Not only can I find 4% dividend yielders that are underpriced, but in today's market there are a group of underpriced and relatively safe funds yielding over 8%. These "boring" investments have been forgotten by the market despite their high yields, but in recent months cash inflows show that people are slowly starting to remember they exist. Click here and I'll share with you what these funds are, where you can find them, and why billionaire investors have called them one of the best options for 2016.
Category: What's Going On?