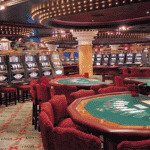 There will be two new opportunities for earning high-yield dividend income hitting the market this year. With the universe of quality high-yield dividend stocks so small, any new additions should be scrutinized to determine if they are worthy investments.
Last week's initial public offering (IPO) REIT spin off by MGM Resorts International (NYSE:MGM) priced at the top of the expected share value range and the shares moved up when trading started. The successful IPO should push other new REITs into the market in 2016. This would be good news for income focused investors.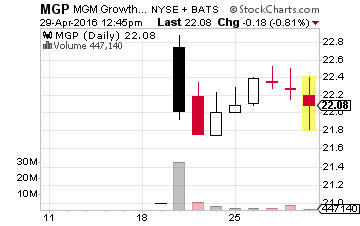 MGM Growth Properties (NYSE:MGP) was launched to own a handful of MGM's casino properties and then lease them back to the gaming company. The spin-off was a move to help MGM reduce its very high debt load. The new REIT took out a $3.2 billion loan and the IPO proceeds were about $1.1 billion. MGM netted about $4 billion that will go to pay down a significant portion of the company's $12 billion in long term debt. The 57.5 million shares sold in the IPO were 27% of the total company. MGM owns the balance.
The REIT starts out its career owning seven MGM managed properties:
Mandalay Bay
The Mirage
Monte Carlo
New York-New York
Luxor
Excalibur
The Park, a dining and entertainment complex located between New York-New York and Monte Carlo which opened in April 2016.
All of the properties are on a single master lease with MGM. The lease has a 10-year term with extension options that will take it out to 30 years. The initial rent payment is $550 million per year with a built in 2% rent escalator on $495 million. The other $55 million will grow with the profitability of the operations of the casino properties. The initial dividend rate will be $0.3575 per share per quarter, or $1.43 per year. The dividends will be 80% of the projected distributable cash flow from the first year lease payment.
Related: How to collect $3,617 on average for every month in 2016.
The prospectus had an expected IPO share price range of $18 to $21. At the IPO, the shares priced at $21, the top of the range. April 21st was the first day of trading and MGP closed at $22.01, up 4.8% from the IPO price. In the first week and a half of trading, the shares have stayed close to that $22.00 value. Based on the initial dividend rate, MGP investors will earn a 6.5% dividend yield. The yield is good, and the new REIT appears solid. Next, I want to see how the MGM Growth Properties manages its business and acquisitions to live up to the "growth" in the name.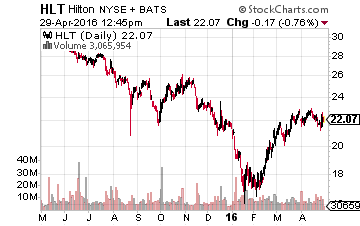 Coming up soon on the REIT IPO market should be a spin off from Hilton Worldwide Holdings (NYSE:HLT). On April 27th, 2016 RLJ Lodging Trust (NYSE:RLJ) announced the resignation of President and CEO Thomas J. Baltimore, Jr. Baltimore is leaving RLJ to "Become President & CEO of Hilton's Planned Hotel REIT." RLJ has been a very well run hotel REIT. I look forward to reviewing the Hilton REIT prospectus.
My basic strategy is to watch a new REIT for up to a year before making an investment recommendation. I want to see the actual results including distributable cash flow. Especially DCF growth. Once I see that a management team is actually committed to growing the payments to shareholders, I calculate a combination of yield and projected dividend growth rate to see if the new REIT is competitive with or better than some of my current buy-and-hold income stock recommendations.
Finding stable companies that regularly increase their dividends is the strategy that I use myself to produce superior results, no matter if the market moves up or down in the shorter term. The combination of a high yield and regular dividend growth is what has given me the most consistent gains out of any strategy that I have tried over my decades-long investing career.
And, there are currently over twenty of these stocks to choose from in my Monthly Paycheck Dividend Calendar, an income system used by thousands of dividend investors enjoying a steady stream of cash.
The Monthly Dividend Paycheck Calendar is set up to make sure you receive a minimum of 5 paychecks per month and in some months 8, 9, even 12 paychecks per month from stable, reliable stocks with high yields.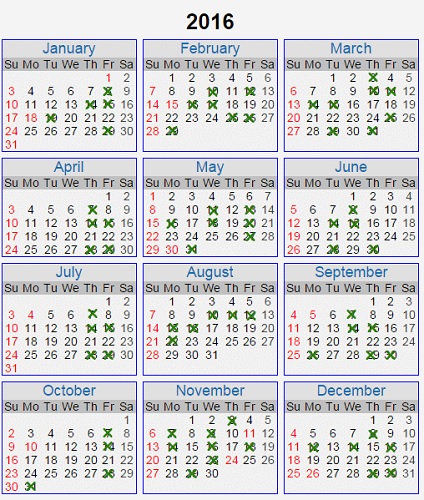 If you join my calendar by
Thursday, May 5th
you will have the opportunity to claim
an extra $3,158.30 in dividend payouts by June 15th.
The Calendar tells you when you need to own the stock, when to expect your next payout, and how much you can make from stable, low-risk stocks paying upwards of 12%, 13%, even 15% in the case of one of them. I've done all the research and hard work, you just have to pick the stocks and how much you want to get paid.
The next critical date is Thursday, May 5th (it's closer than you think), so you'll want to take action before that date to make sure you don't miss out. This time, we're gearing up foran extra $3,158.30 in payouts by June 15th, but only if you're on the list before May 5th. Click here to find out more about this unique, easy way of collecting monthly dividends.
Category: REITs