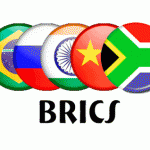 The mainstream media have been fixated on the US stock market this year.  And it's not hard to understand why.
The S&P 500 is closing in on its all time record high.  And the Dow Jones Industrials Average is setting a new record high almost daily.
It's exciting stuff for investors!
However, what's getting lost in all the euphoria over the US stock market is what's happening in emerging markets this year.  While the Dow and S&P 500 are up 11% and 10% respectively in 2013, leading emerging market indices are down for the year.
Take a look at broad emerging market ETF, iShares MSCI Emerging Markets Index Fund (EEM).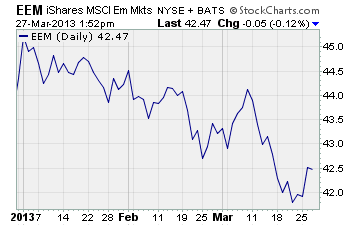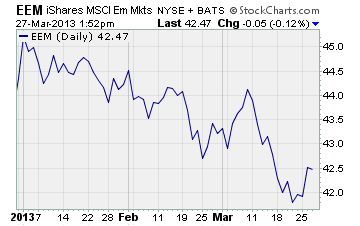 As you can see, EEM has been moving steadily lower (except for a failed rally in March) since the beginning of 2013.  And the fund is now down 2.6% for the year.
What's more, investors have been shifting assets out of emerging market ETFs for weeks now. 
EEM has racked up net outflows of nearly $1.5 billion so far this year.  And fellow broad emerging market ETF, Vanguard FTSE Emerging Markets ETF (VWO) has seen more than $500 million in net assets walk out the door.
According to Bloomberg, emerging markets are "posting the worst first quarter since 2008 and lag behind shares of developed economies by the most in 15 years."
It's a strange situation to say the least.
In the past several bull markets, emerging market stocks have outperformed their developed market peers.  Bloomberg reports that emerging market stocks "beat developed equities by an average of 46 percentage points during bull markets… since the index data began in 1988." 
Why is it different this time?
It looks like investors are wary of taking on too much risk.  Even though five years have passed since the 2007 financial crisis, the carnage is still fresh in many people's minds.
What's more, many investors seem to think they can count on the central banks of developed countries to continue their easy money policies into the foreseeable future.  These policies are proving to be a constant source of cheap money that is finding its way into stocks.
With that said, not everyone believes emerging markets will underperform developed markets this year.
Byron Wien, Vice Chairman of the Advisory Services Unit at Blackstone Group, recently told Bloomberg that emerging markets will outperform global stocks this year and provide "double digit" returns for investors. 
He explained that emerging markets "have enormous economic momentum and the developed markets are mature and the momentum is not as pronounced."
So, are emerging market stocks are a buy at current levels?
I think they are.  The present divergence between developed market stocks and emerging market stocks is an historical anomaly. 
Remember, greed is a powerful emotion. 
At some point, investors will forego the perceived safety of developed markets for the opportunity to make more money in the faster growing emerging markets.  When that happens, you can expect emerging market stocks and ETFs to take off.
Profitably Yours,
Robert Morris
Category: ETFs, Foreign Market ETFs, Market Analysis, What's Going On?