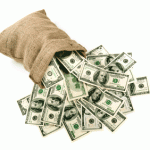 US stocks have been red hot since the beginning of 2013.  But they took a bit of a breather last week.  The Dow Jones Industrials declined 0.01% for the week, closing at 14,512. 
That ended a string of four consecutive weekly higher closes for the popular stock index.
Investors took a break from buying stocks to watch the Cyprus bank bailout drama unfold.  With the tiny island nation's banking system on the verge of collapse, Cypriot officials were scrambling last week to secure a bailout from the European Central Bank.
Many investors feared the stock market would tank if Cyprus was allowed to go bankrupt.  After all, bankruptcy would likely mean Cyprus would be the first country to leave the European Union.
Fortunately, a deal was finally reached in the early-morning hours today to provide Cyprus with $13 billion.  The bailout saves the Cypriot banking system from a meltdown.  But many bond holders and bank depositors face losing as much as 40% of their money.
As a result, global investors aren't completely happy with the deal. 
They're concerned the Cyprus bailout deal will be the model for all future bailouts.  If it is, the burden of bailing out failing banks will fall more heavily on depositors and bondholders instead of governments and taxpayers.
Here's the thing…
The uncertainty surrounding the Cyprus bank bailout prompted many investors to shift money into the perceived safe haven of US bonds last week.  Consequently, US bond ETFs had net inflows of $2.1 billion for the week ending March 22nd.
In contrast, US stock ETFs saw net inflows dwindle to just $751 million last week.  And international stock ETFs saw $1.2 billion in assets go right out the door!
Is this just a knee-jerk reaction to the Cyprus banking crisis?  Or is it the beginning of larger trend? 
Only time will tell…
However, there was one really interesting thing about last week's asset class shift.  Of all the US bond ETFs on the market, those investing in Treasury Inflation Protected Securities (TIPS) saw the heaviest net inflows.
iShares Barclays TIPS Bond ETF (TIP) had net inflows of $519 million last week.  And FlexShares iBoxx 3-Year Target Duration TIPS ETF (TDTT) saw its assets under management jump 34% on inflows of $355 million.
What are TIPS?
TIPS are a type of US Treasury bond whose value is adjusted for inflation.  For example, if inflation increases by 2% in a given year, your TIPS' value would be increased by 2% as well.  What's more, the interest rate paid by your TIPS would also be raised by 2%.
So, unlike traditional bonds, TIPS do not lose value as inflation rises.
The heavy buying of TIPS ETFs last week shows investors are starting to get concerned about inflation.  In fact, more than a few investors are now concerned the Fed will have to reverse its easy monetary policies sooner than the 2015 timeline provided by Fed Chairman Bernanke.
As such, you may want to take a look at a few TIPS ETFs for your own portfolio.  Its best to add these to your holdings before there's strong evidence inflation is on the rise. 
Profitably Yours,
Robert Morris
Category: Bond ETFs, ETFs, Foreign Market ETFs, Market Analysis, What's Going On?