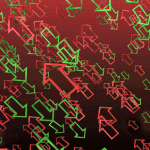 August turned out to be one of the most turbulent months we've seen in a while for the financial markets.  The stock market selloff that began in China eventually spread around the globe and triggered the first 10% selloff in US stocks since 2011.
Despite the market turbulence, August ETF Fund Flows held steady.  Total assets invested in US listed ETFs ticked up $2.7 billion during the month.
Don't get me wrong, that's a fraction of the inflows we have seen in previous months.  And that's a good indication of…
The Emotion Driving June ETF Fund Flows
Fear is the dominant emotion on Wall Street.
Fear and greed can be measured with a variety of different indicators.  The VIX, put and call option volume, and market breadth are some of my favorite to track.
Guess what all of these indicators of fear and greed all have in common right now?
They all indicate investors are running scared… the VIX is a perfect example.
The VIX is the CBOE Volatility Index.  It measures the implied volatility of S&P 500 index options.  It measures how much volatility investors expect of the next 30-days.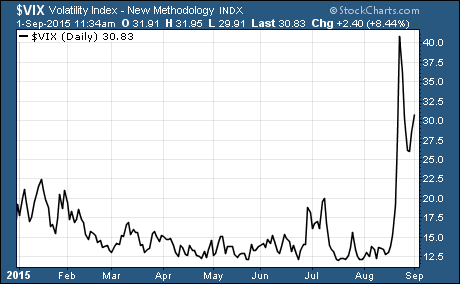 As you can see, the VIX spiked more than twice as it had been at any other time this year and continues to be much higher than it had been.  In other words, investors are expecting the S&P 500 to move three times as much as they did before the recent selloff started.
This is a clear visual representation of fear in the markets.
ETFs With The Largest Inflows In June 
Despite the fear in the markets, ETFs like Vanguard S&P 500 $VOO and SPDR S&P 500 $SPY still logged net inflows of around $1.5 billion in August.
This tells me two things…
Long term investors and swing traders had been waiting in the wings for a pullback to buy large cap US stocks.  So, there are investors that are bullish on US stocks despite the overall fearful tone of the market.
It also tells me that there is a growing group of investors that are using ETFs to invest systematically.  These investors aren't following every market gyration.  They have a plan to deploy their new capital into a group of ETFs every month no matter what the markets are doing.
That's a good sign of the growth in the ETF market and the strength of the US stock market.
ETFs With The Largest Outflows In June
The outflows also had some clear cut indications… the first being investors don't want anything to do with emerging markets.  Not surprising given that China is the epicenter of the recent selloff and it's still considered an emerging market.
The two ETFs hit hardest by redemptions were the Vanguard FTSE Emerging Markets $VWO and iShares MSCI Emerging Markets $EEM.  Investors pulled more than $1.3 billion out of VWO and EEM in August.
We also saw large redemptions of two US sector ETFs… Health Care Select Sector SPDR $XLV and Technology Select Sector SPDR $XLK both had net outflows of more than $1 billion in August.  So investors also took profits of the high flying health care sector and trimmed their exposure to the technology sector.
Here's the bottom line…
We've seen some profit taking and money moving from the areas most at risk to further losses given the backdrop of current events.  But through it all, money continues to flow into ETFs.
Don't forget that high levels of fear in the market typically don't last long… especially when there is good economic data like we have in the US right now.  If these fears prove to be unfounded, it could be the thing that sparks a massive bull market rally in US stocks into the end of the year.
Good Investing,
Corey Williams
Note: Corey Williams writes and edits ETFTradingResearch.com.  Sign up for our free ETF reports and free e-letter at http://www.etftradingresearch.com/free-sign-up.  We're devoted to helping you make more money from ETFs.
Category: Market Analysis