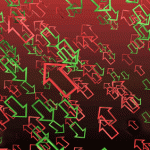 Today we're taking a look at ETF fund flows in SPDR S&P 500 (SPY), PowerShares QQQ (QQQ), and SPDR Dow Jones Industrial Average Trust (DIA).
ETF fund flows are a valuable indicator of what traders are thinking.  It takes a lot of buying or selling to drive millions of dollars into or out of individual ETFs.
Fund flows are something traders use to find trends and gauge investor sentiment.  And it can help you pinpoint which ETFs could be next to make a big move higher or lower.
Let's take a look the leading ETFs in net inflows and net outflows from July 15th to July 19th.
SPDR S&P 500 (SPY) and PowerShares QQQ (QQQ) combined for $6.5 billion in net inflows last week.  Investors poured money into them as they broke out to new 52-week highs last week.
Why?
Bernanke backtracked on tapering.  He sent a clear signal last week that tapering could be put off until after September.  And don't forget, the talk of ending QE3 was the only reason stocks paused in the midst of their powerful bull market rally in the first place.
No wonder investors are pouring boatloads of money into the broad based large cap stock ETFs. Traders realize that trying to front run the Fed's exit isn't the right move.
QE3 could still have another six months or more to run.  The massive inflow of money into QQQ and SPY is a clear indication traders are back aboard the QE3 train.
And until the economic data improves to the point that the end of QE3 is imminent, we'll likely see broad based ETFs continue to attract investor money.
With investors feeling so bullish, it's not surprising to see ETF creations outpace redemption by a wide margin.
The ETF that investors pulled the most money out of was the SPDR Dow Jones Industrial Average Trust (DIA).  It lost $462 million last week… that's just a drop in the bucket compared to the $6.5 billion that flooded into SPY and QQQ.
I think it's unusual to see SPY and QQQ collecting so much money while DIA is shedding money.  We'll typically see the fund flows among large cap stock ETFs trend in the same direction.
Why isn't DIA keeping up with SPY and QQQ?
The way I look at it, this is an indication of traders looking for bigger gains in riskier investments.
I know it's splitting hairs, but the blue chip stocks in DIA are the biggest and best companies around.  SPY and QQQ are a little bit riskier than DIA and could give investors more upside as the QE3 trade gets back into full swing.
That wraps up this week's ETF fund flows…
Keep in mind, there's a lot of information about ETF fund flows.  And it can be a very useful tool as long as you know what you're looking for.
Good Investing,
Corey Williams
Category: ETFs, Index ETFs