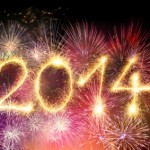 We're halfway through January and so far this year the S&P 500 hasn't done much.
The large cap index hit a high of 1,849 on December 31st.  It dropped 1.8% to a low of 1,815 on January 13th before rebounding back near the previous high today.
This is primarily due to the mixed bag of economic data we've received lately. 
Most notably the nonfarm payroll data missed the mark by a wide margin.  The US economy was expected to add 193,000 jobs in December.  But the US added just 74,000 jobs last month.
The weak jobs number was offset by stronger than expected retail sales.  Excluding autos, retail sales climbed 0.7% when economists were expecting them to increase just 0.4%.  
The healthcare sector has been the strongest sector so far this year with a 2.8% gain.  And financials are the only other sector that is up year-to-date.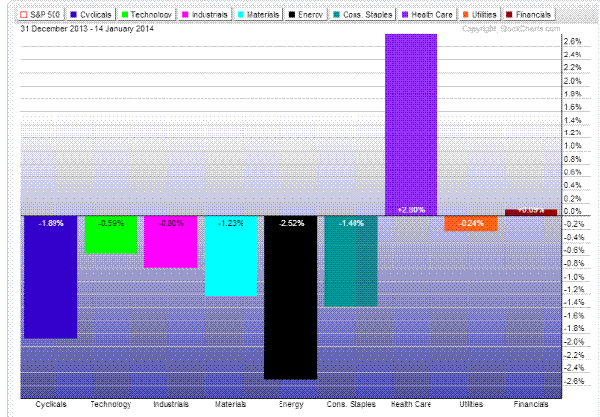 The strong performance out of the gate for healthcare in 2014 isn't surprising.  It was the best performing sector last year.  And the sector has more than a few bullish catalysts that should continue to drive strong performance this year.
First off, the ranks of Americans with health insurance are swelling with the implementation of the Affordable Healthcare Act.  With more people in the system, we should see the amount of money spent on healthcare increase at a faster rate in 2014 than in recent years.
And don't forget about the free trade zone in Shanghai, China.  The Chinese government has relaxed their strict rules governing health insurance, hospitals, and capital equipment leases in this area. 
It's expected to be a windfall for medical equipment makers as tariffs are lowered and hospitals rush to upgrade to the latest medical technologies.  In fact, the healthcare equipment and services industry is the top performing industry so far this year.
Here's the upshot…
The mixed bag of economic data has kept the S&P 500 from hitting new highs in 2014.  But the healthcare sector is bucking the trend and pushing higher because the fundamental story for the sector is bullish.     
Good Investing,
Corey Williams
Category: ETFs, Sector ETFs
Corey Williams is the editor of Sector ETF Trader, an investment advisory service focused on profiting from ETFs and the economic cycle. Under Corey's leadership, the Sector ETF Trader has become one of the most popular and successful ETF advisories around. In addition to his groundbreaking service, Corey is the lead contributor to ETF Trading Research, where he shares his insights about ETFs and financial markets three times a week. He's also a regular contributor to the Dynamic Wealth Report and the editor of one the hottest option trading services around – Elite Option Trader.