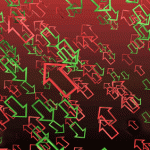 listed ETFs are closing in on a major milestone… $2 trillion under management.
At the end of last week, total assets in these ETFs stand at $1.987 trillion. And they could be on pace to reach $2 trillion by the end of the year.
Last week we saw large net inflows into ETFs that hold US and international stocks…
The ETFs with the largest net inflows were SPDR S&P 500 (SPY) with $3.5 billion, iShares Russell 2000 (IWM) with $1.9 billion, and Financial Select Sector SPDR (XLF) with $1.1 billion.
ETFs that had net outflows saw much smaller levels of money moving out. The ETF with the largest net outflow was the SPDR S&P MidCap 400 (MDY). MDY's net outflow of $370 million last week was just a fraction of what ETFs like SPY had in net inflows.
These large inflows are indicative of strong bullish sentiment among investors. And this bullish bias was confirmed by the American Association of Individual Investors Sentiment Survey.
The percentage of investors that are bullish on stocks over the next six months ticked up 3% to 52.1%. This is well above the long-term average of 38.9% of investors that are bullish.
Needless to say, there's a high level of bullish sentiment toward US stocks.
Not surprisingly, other market indicators like market momentum, stock breadth, and volatility show that greed is dominating investor buy and sell decisions.
One thing that's helping drive bullish investor sentiment has been the drop in oil prices.
Crude oil prices have fallen to their lowest level in five years in the wake of last week's OPEC decision to keep production levels the same.
The drop in oil prices is clearly a headwind for the energy sector. But it is largely seen as providing a boost to consumer and industrial stocks that benefit from lower energy costs.
Here's the bottom line…
ETF money flows, investor sentiment, and market internals all show that the bulls are in control of the market. It appears that stocks are in position to enjoy a strong rally into the end of the year.
Good Investing,
Corey Williams
Category: ETFs, Market Analysis