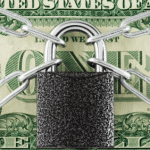 Anyone that follows the stock market has heard about the great run stocks have been on to start the year.  The S&P 500 is up 11% year-to-date.  That's a respectable return for an entire year and we're just starting the second quarter.
When stocks are surging to the upside like they have this year, it's usually because economic growth is accelerating and investors are optimistic about the future.  The bullish optimism in turn sparks a rally in cyclical sectors like basic materials, industrials, and technology.
But there's something unusual about this rally…  It's being led by defensive sectors.
So far this year, the three best performing SPDR sector ETFs are the Health Care Select Sector SPDR (XLV), Consumer Staples Select Sector SPDR (XLP), and Utilities Select Sector SPDR (XLU).  XLV is leading the way with 21% gain YTD, XLP is next with a19% gain, and XLU is right behind with a 17% gain.
Over the same time, the Materials Select Sector SPDR (XLB) is up just 2%, Technology Select Sector SPDR (XLK) is up 4%, and Industrial Select Sector SPDR (XLI) has gained 7%.
As you can see, defensive sectors are outperforming cyclical sectors by a wide margin.
The reason for the defensive led rally is simple… the Federal Reserve.
The Fed's easy money monetary policy is killing income investors.  The fixed income investments, like bonds and treasuries, that income investors typically flock to are earning next to nothing in this low interest rate world. And now more than ever, their gold investments aren't working.
Right now their only choice is to put money into dividend paying stocks.  It's the only way to generate a decent yield.  And as you know, defensive sectors pay bigger dividends than cyclical sectors that are focused on growth.
In my opinion, the influx of new money seeking the higher yields of dividend paying stocks is the most likely driver of the unusual defensive sector led rally.
The bigger question on my mind is which sectors will perform better going forward?
In short, it depends on economic growth.  Just last week I revealed two ETFs that are poised to soar to the subscribers of my ETF trading service Sector ETF Trader.  Click here if you'd like to see what they are…
Good Investing,
Corey Williams
Category: Dividend ETFs, ETFs, Sector ETFs