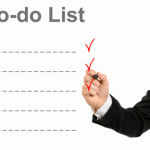 If you're anything like me the holiday season is a busy time of year.
My family's list of things to do is a mile long…
Christmas Decorations
Hang the lights
Prep present list
Shopping
Travel Plans
Pack For Trip To Grandma and Grandpa's House
Work Holiday Party
Holiday Letter
Family Pictures
Wrap Presents
Bake Christmas Cookies
More Holiday Parties
Needless to say, it's easy to put your personal finances on the backburner with all of these obligations.
But before you immerse yourself in the holidays, here's what you need to do to make sure your financial house is in order…
Review Your Portfolio
It's time for a yearend reality check. It's a great time to re-balance and adjust your portfolio to make sure it's in line with your financial goals.
Make sure the fundamentals and macro themes behind your investments are still intact. If not, make the adjustments that need to be made.
Prepare For The Tax Man
Are there any stocks or ETFs with losses that you want to sell?
Consider doing it before the calendar turns and you can use the losses to offset capital gains on other investments. This is called tax loss harvesting.
It's an effective way to reduce your tax bill. But there are rules you need to follow so make sure you get some advice from your financial planner or accountant.
Retirement Accounts
Another tax saving tip is to maximize your contributions to your 401(k) or IRA.
You can contribute up to $17,500 or $23,000 if you're over 50 years old. These tax deferred savings plans are a great way to lower your tax bill. But you need to make contributions to a 401(k) before December 31st.
And here are seven more things you should do…
Meet with your financial planner
Donate to charity
Use money in FSA for healthcare expenses
Review your budget
Calculate your net worth
Check your credit score
Update your estate plan
If you do these ten things, you will certainly be ready to start 2015 on the right foot.
Good Investing,
Corey Williams
Category: What's Going On?