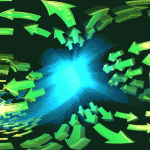 It's no secret that stocks had a great first quarter. 
Today we're taking a look at ETF fund flows to see where ETF investors were putting their money last quarter.  And we'll also take a look at where funds are flowing in the first few days of the second quarter.
The fund that attracted the most new money in the first quarter was WisdomTree Japan Hedged Equity ETF (DXJ).  It had net inflows of $3.9 billion!
DXJ combines stock investing with a currency hedge.  Specifically, it's designed to track Japanese stocks and hedge out exposure to changes in the exchange rate between the US Dollar and the Japanese yen.
The massive fund flows into this unique ETF aren't surprising…  DXJ's 18% gain made it one of the top performing ETFs in the first quarter.
At the other end of the spectrum, the ETF with the most redemptions was the SPDR Gold Shares (GLD).  Investors pulled a whopping $6.6 billion out of GLD in the first quarter!
GLD is designed to track the price of gold bullion.  The ETF actually holds physical gold at a secure location.  And it must buy or sell gold as investors buy and sell shares of GLD.
During the first quarter, the spot price of gold fell from a high of $1,695 to a low of $1,554.  And it finished the quarter right around $1,600. 
One thing's for sure, gold prices are in a pronounced downtrend.  So it's not surprising to see ETF investors fleeing GLD in favor of stock funds.    
Here's the thing…
In just the first few days of the second quarter, GLD is once again leading the fund outflows with $630 million.  And the SPDR S&P 500 (SPY) is leading the way with $1.3 billion in net inflows. 
And who can blame ETF investors?    
Gold prices are falling and stocks are hitting new all-time highs! 
In short, the fund flows to start the quarter are a clear indication ETF investors are sticking with the same things they were doing in the first quarter.  That should help fuel further gains in stocks at the expense of gold.
Good investing,
Corey Williams
Category: Commodity ETFs, ETFs, Foreign Market ETFs, Market Analysis, What's Going On?