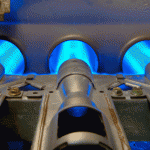 AGL Resources $GAS is the only stock in the S&P 500 that's up over the last week.  The natural gas utility is up 23% this week.  You can buy an ETF with AGL Resources and other utility companies to get exposure to it and other stocks that share important characteristics with it.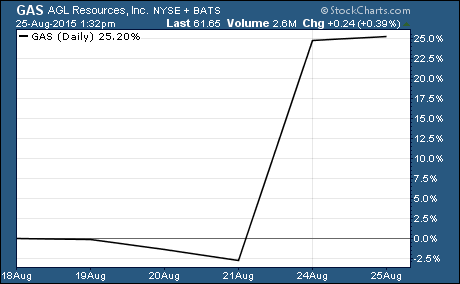 AGL Resources distributes natural gas to 4.5 million customers across seven states.  The company announced they will be acquired by Southern Co $SO in a deal that pays GAS shareholders $66 per share.
The merger will make Southern Co the second largest utility in the US.  The massive utility will have nine million customers across nine states.
Why is Southern Co moving to grow their business?
A few weeks ago President Obama released the details of his Clean Power Plan.  And it's not kind to coal powered utilities like Southern Co.  Essentially the plan is to phase out coal in favor of cleaner burning natural gas.
The new plan puts a premium on gas utilities.  Southern Co is moving now to secure their share of the best natural gas utilities.
And this won't be the last like this… coal powered utilities are quickly moving to diversify into natural gas so they're not left out in the cold.  M&A activity is already sweeping through industries with lots of government regulations like healthcare, insurance, and financials.
And there's going to be even more M&A deals among utility companies.  These deals will help lift the valuations of all utility stocks.  Owning an ETF with exposure to GAS and other utility stocks like it should deliver solid gains in the months ahead.
Here are 2 ETFs with exposure to AGL Resources…
First Trust Utilities AlphaDEX Fund $FXU and PowerShares DWA Utilities Momentum Portfolio $PUI are two ETFs with the largest weighting toward GAS.
GAS is the 4th largest holding in FXU.  It accounts for 4.2% of the ETF.  It has an expense ratio of 0.70%.  It's up 2.0% over the last month.
PUI has a 3.82% weighting of GAS. That makes GAS the 6th largest holding in PUI right now.  This ETF has an expense ratio of 0.79%.  It's up 1.6% over the last month.
Other Holdings in ETFs with AGL Resources…
FXU tracks an index of 41 stocks in the Utilities sector.  They are selected for inclusion into the ETF based on AlphaDEX selection criteria.  Right now, FXU holds GAS and 40 other stocks.
PUI also tracks an index of utility companies.  There are 32 stocks in this ETF that are selected based on a variety of investment merit criteria including fundamental growth, stock valuation, investment timeliness, and risk factors.
Other ETFs with AGL Resources…
There are plenty more ETFs with exposure to GAS.  In fact, I see 63 ETFs that hold GAS when I use an ETF screener for ETFs with exposure to GAS.  Link sentence to
Good Investing,
Corey Williams
Note: Corey Williams writes and edits ETFTradingResearch.com.  Sign up for our free ETF reports and free e-letter at http://www.etftradingresearch.com/free-sign-up.  We're devoted to helping you make more money from ETFs.
Category: What's Going On?