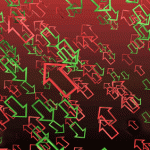 Last week, investors pulled money out of stock ETFs and flooded into ETFs backed by US Treasuries.  A clear indication ETF investors are in risk off mode.
ETF fund flows are a valuable indicator of what traders are thinking.  It takes a lot of buying or selling to drive millions or even billions of dollars into or out of individual ETFs.
Fund flows are something traders use to find trends and gauge investor sentiment.  And it can help you pinpoint which ETFs could be next to make a big move higher or lower.
The popular SPDR S&P 500 (SPY) and iShares Core S&P 500 (IVV) led all ETFs with the largest outflow of money.  SPY lost $8.8 billion while IVV lost $3.1 billion… together that's an eye-popping $12 billion in total outflows.
The dramatic asset outflows that began with emerging market stock ETFs has now spilled over into US based stock ETFs as well.
Why?
Investors are worried the entire global economy could be on the verge of major slowdown.  The latest economic data is showing signs of slowing economic growth in US, Europe, Japan, China, and other emerging markets.
What's more, the outflow of capital from emerging markets has created a tremendous amount of volatility in currency markets.
The massive outflow of money from equity based ETFs has been a boon for ETFs backed by US Treasuries.  In fact, 9 of the top 10 ETF asset gainers last week were bond funds.
The top three were iShares 1-3 Year Treasury Bond (SHY), iShares 3-7 Year Treasury Bond (IEI), and ProShares Ultra 7-10 Year Treasury (UST).  Together they collected $10.1 billion in net asset inflows last week.
US Treasuries are the classic safe haven investment.  They're the safest place for traders to stash money they're unwilling to risk. 
But that's not all…  Some investors are clearly chasing performance.  And over the last few weeks, bonds are outperforming stocks by a wide margin. 
Simply put, if the slowdown the latest economic data seems to show does develop, then interest rates will end staying at their extremely low levels even longer than expected.  And that's good for the value of bond funds.
That wraps up this week's ETF fund flows…
Keep in mind, there's a lot of information about ETF fund flows.  And it can be a very useful tool as long as you know what you're looking for.
Good Investing,
Corey Williams
Category: ETFs, Market Analysis