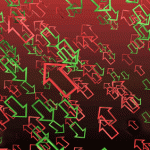 The steep drop in oil prices over the last few months has been grabbing all of the headlines. But it was two natural gas ETFs that had unusually large net asset flows last week.
Last week we saw large net inflows into several ETFs that hold US stocks… iShares Core S&P Mid-Cap (IJH) had $997 million, PowerShares QQQ (QQQ) had $720 million, and iShares Core S&P 500 (IVV) had $650 million.
But the ETF with the largest net inflow was VelocityShares 3x Inverse Natural Gas ETN (DGAZ). DGAZ had a whopping $2.8 billion in net inflows last week.
What's more, the VelocityShares 3X Long Natural Gas ETN (UGAZ) had $1.4 billion in net outflows.
Needless to say, these are some unusually large money flows for these ETNs that track the price of natural gas.
Clearly there was some big money splashing around in these ETFs last week.
Why?
The arctic blast that sent temperatures plummeting across the country also caused a spike in natural gas prices. The colder weather causes energy demand to increase.
Now warmer weather is returning and the price of natural gas is falling.
The unusually large money flows into and out of UGAZ and DGAZ is a clear indication that some traders spotted this opportunity and profited from the volatility in natural gas prices.
These types of speculative money flows are a good indication that greed is once again the dominant emotion on Wall Street. In fact, we have seen other indicators of greed, like market momentum and market breadth, swing to levels of extreme greed.
We're a long way away from the levels of extreme fear we saw just over a month ago. But we're still nowhere near the levels that have indicated market peaks over the last few years.
But we have seen the level of bullishness among individual investors decline over the last week. According to the American Association of Individual Investors Sentiment Survey, bullishness among individual investors dipped 8.8% to 49.1%.
However, the level of bullishness continues to run well ahead of the long term average of 38.9%. So there is still a high level of bullish sentiment among investors as we head into the home stretch of the year.
Here's the bottom line…
Greed is the emotion that is dominating the market. Individual investors and large money managers alike are looking for opportunities to make money right now.
And with bullish sentiment running high, there's little doubt that the path of least resistance for US stocks is higher… at least through the end of the year.
Good Investing,
Corey Williams
Category: ETFs, Market Analysis