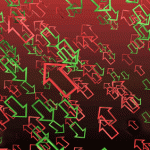 Investors pumped money into ETFs last week as the Dow and S&P 500 reached new all-time highs. The total amount of money invested in US listed ETFs soared to over $1.8 trillion!
These fund flows are a valuable indicator of what traders are thinking. It takes a lot of buying or selling to drive millions or even billions of dollars into or out of individual ETFs.
Fund flows are something traders use to find trends and gauge investor sentiment. And it can help you pinpoint which ETFs could be next to make a big move higher or lower.
The ETF with the largest net inflow last week is iShares US Industrials ETF (IYJ). Investors put $677 million into IYJ last week. This continues a trend of inflows into IYJ that began at the beginning of the second quarter.
As the name suggest, IYJ invests in US industrial stocks. The top holdings are US large cap heavyweights like General Electric (GE), United Technologies (UTX), Union Pacific (UNP), and Boeing (BA).
Industrials have been one of the top performing sectors in the second quarter. Their strong performance is one of the biggest reasons the S&P 500 and Dow broke out to new highs last week.
For these same reasons, it's not surprising to see SPDR Dow Jones Industrial Average Trust (DIA) among the top asset gainers last week. DIA collected $486 million in new assets last week.
Clearly the rotation out of growth and into cyclical stocks with lower valuations is still going strong.   Money should continue flowing into these ETFs as more investors position themselves for an uptick in economic growth throughout the rest of 2014 and into 2015.
It doesn't appear that investors have the same confidence in small cap stocks. Last week, iShares Russell 2000 (IWM) led all ETFs with more than $1.0 billion in redemptions.
The massive outflow comes after a sharp move to the upside for the small cap ETF. From May 15th to June 9th, IWM shot up 9.3%. I'm not surprised to see traders taking some profits off the table after such a quick move to the upside.
But that doesn't mean small caps are doomed to move lower from here.
Don't forget that small cap stocks are historically more volatile than large cap stocks. And they typically outperform large cap stocks when economic growth is accelerating.
That wraps up this week's ETF fund flows…
Keep in mind, there's a lot of information about ETF fund flows. And it can be a very useful tool as long as you know what you're looking for.
Good Investing,
Corey Williams
Category: ETFs, Market Analysis