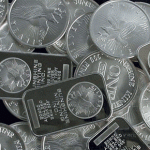 One theme that pops up time and time again lately is the revival of the European economy.  And investors are pouring money into European stock ETFs.
But that's not all the optimism about Europe is doing…
It also sparked a rally in the Euro currency.  In fact, the US Dollar has been losing ground to the Euro and most of the other major currencies since the beginning of July.
The weaker Dollar has helped spark a rally in precious metals and other commodities.  Commodity ETFs and stocks driven by commodity prices have been on the upswing as well. 
Let's take a closer look at the three ETFs that reaped the biggest rewards over the last four weeks…
Global X Silver Miners (SIL)
SIL has been the top performing ETF over the last four weeks with a 15.7% gain.  It's now up 52.7% from the 52-week low.    
It tracks an index made up of stocks that make up the silver mining industry.
What's driving SIL?
Gold is the precious metal that gets most of the headlines.  But silver has been outperforming gold lately.
It doesn't take a genius to figure out that rising silver prices are good for silver miners.  And the recent strength in silver prices has renewed investor interest in this industry that has been beaten up by falling prices this year. 
The best part is if silver prices continue to rise, SIL will likely outperform the metal itself. 
iShares Silver Trust (SLV)
SLV has shot up 14.4% over the last month.  But it's still sitting on a 24.2% loss year-to-date.  It's designed to track the spot price of silver bullion. 
Why is SLV soaring? 
Silver has a dual role as an industrial metal and a safe-haven asset.  This dual role makes silver prices more volatile than gold.
Right now, silver is benefiting from both.
The optimism for global economic growth is good because as the economy picks up speed, the demand for silver in industrial uses goes up too.  And the recent weakness in the US Dollar is good for silver because it becomes cheaper for foreign investors to buy it as a safe-haven asset.
Obviously, when both of the catalysts are working together to drive silver prices higher, we can see a big move higher in the white metal.          
Market Vectors Junior Gold Miners ETF (GDXJ)
GDXJ is up 15.4% this month.  This big run comes after an epic fall for gold mining stocks this year.  And it's still down 48.4% from the 52-week high.
It tracks an index of small- and medium-capitalization companies.  In order to be part of the index, a company must generate at least half of their revenue from gold and silver mining, hold real property that has the potential to produce at least 50% of the company's revenue from gold or silver mining when developed, or primarily invest in gold or silver.
How much further can GDXJ run?   
The rebound in GDXJ is much about fundamentals as it is technicals.
On August 12th, GDXJ started building momentum as the US Dollar fell and precious metals, like gold and silver, surged higher.  It caused GDXJ to break out above the downward trending resistance that had kept a lid on GDXJ going back to October of last year.
Make no mistake, this is a turning point for GDXJ.
The downtrend is over.  But GDXJ may have a hard time adding to the gains it has racked up over the last month.
Don't forget, just because a downtrend comes to an end doesn't mean it going to go right back up.  In this case, it seems likely that GDXJ will settle into a trading range.
Here's the upshot…
Silver ETFs and ETFs with exposure to silver miners have been on a great run over the last month.  But don't be too quick to jump on this bandwagon.  These ETFs need to put in a solid floor of support and make a higher high before we can say the tide has truly turned for precious metals and the miners.    
Good Investing,
Corey Williams
Category: Commodity ETFs, ETFs, Sector ETFs