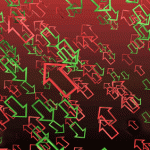 Today we're taking a look at ETF fund flows in – iShares Russell 2000 (IWM) and SPDR S&P 500 (SPY).
ETF fund flows are a valuable indicator of what traders are thinking.  It takes a lot of buying or selling to drive millions of dollars into or out of individual ETFs.
This is something traders use to find trends and gauge investor sentiment.  And it can help you pinpoint which ETFs could be next to make a big move higher or lower.
Let's take a look at two ETFs that led the way in net inflows and net outflows from April 22nd to April 26th.
iShares Russell 2000 (IWM) led all ETFs with $1.6 billion in inflows last week.  IWM is the largest small cap focused ETF with more than $20 billion in assets under management.
IWM is currently trading for $93.71.  It's up 31% from the 52-week low of $71.47 and just shy of the $94.72 52-week high.
The influx of money into IWM is a sharp reversal from the prior week when it was one of the ETFs with the most outflows.  Obviously it didn't take long for traders to jump back on board with the risk on trade.
As you know, small caps typically produce bigger percentage gains than large cap stocks in a bull market.  So the strong inflow of cash into IWM is a clear indication traders are expecting stocks to continue moving higher.
But on the other hand, the SPDR S&P 500 (SPY) led all ETFs with more than $2 billion in outflows.  That's more than a drop in the bucket, even for this massive ETF with $130 billion in AUM.
SPY is currently trading at $159.38. It's up 28% from the 52-week low of $124.37 and just shy of the 52-week high and all-time high of $159.71.
Obviously a large outflow of money from SPY doesn't sound like a bullish omen for stocks.  In fact, taken on its own, the outflow from SPY could indicate traders are turning bearish on stocks.
But when you consider the outflow happened at the same time there was a large influx of money into IWM, the flows could indicate traders are becoming more bullish.
In short, if traders are selling the large cap ETF in order to buy the small cap ETF, it's an indication traders are positioning themselves to capture bigger gains from the markets next leg higher.
That wraps up this week's ETF fund flows…
Keep in mind, there's a lot of information about ETF fund flows.  And it can be a very useful tool as long as you know what you're looking for.
Good Investing,
Corey Williams
Category: ETFs, Index ETFs, Market Analysis, What's Going On?