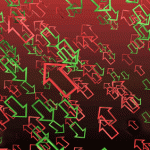 Today we're taking a look at ETF fund flows in – SPDR S&P 500 (SPY) and iShares MSCI Emerging Markets (EEM).
ETF fund flows are a valuable indicator of what traders are thinking.  It takes a lot of buying or selling to drive millions of dollars into or out of individual ETFs.
They're something traders use to find trends and gauge investor sentiment.  And it can help you pinpoint which ETFs could be next to make a big move higher or lower.
Let's take a look at the leading ETFs in net inflows and net outflows from June 10th to June 14th.
Investors poured a whopping $3.9 billion into SPDR S&P 500 (SPY) last week.  The massive inflow of money into the large cap US stock fund dwarfed the fund flows into other ETFs last week. 
In short, this is a clear indication traders expect the bull market in US stocks to continue. 
If you dig a little deeper, it looks to be traders buying SPY after it pulled back to support of the 50-day moving average. This technical level has been a strong floor of support throughout 2013. 
On the three previous occasions SPY touched the 50-day moving average, it sparked a rally that sent SPY soaring to a new high.  Obviously this trend has been a friend to investors on those occasions and it could be again here.
At the other end of the spectrum, investors continued to pull money out of ETFs focused on emerging markets.  The iShares MSCI Emerging Markets (EEM) led all ETF with more than $2.5 billion in redemptions last week.
Investors pulled money out of EEM and other investments that would suffer from higher US interest rates as the yield on the 10-year Treasury surged more than 50 basis points over the last month.
Here's the thing… emerging market ETFs are oversold at this point. 
If the Fed soothes investor fears about them beating a hasty retreat from their $85 billion per month in asset purchases this week, we could see interest rates retreat and emerging markets rebound.
That wraps up this week's ETF fund flows…
Keep in mind, there's a lot of information about ETF fund flows.  And it can be a very useful tool as long as you know what you're looking for.
Good Investing,
Corey Williams
Category: Bond ETFs, ETFs, Foreign Market ETFs, Index ETFs