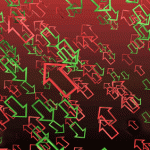 The 'risk on' trade received a boost from the Fed last week.
Fed Chair Janet Yellen said that the Fed is unlikely to raise interest rates this year. That's good news for investors that feared interest rate hikes could cool off the stock market before the end of the year.
Investors took the welcomed news as an opportunity to buy stocks and ETFs that hold stocks. In fact, investors pumped more than $12 billion into ETFs that hold US stocks last week.
These fund flows are a valuable indicator of what traders are thinking. It takes a lot of buying or selling to drive millions or even billions of dollars into or out of individual ETFs.
Fund flows are something traders use to find trends and gauge investor sentiment. And it can help you pinpoint which ETFs could be next to make a big move higher or lower.
The SPDR S&P 500 (SPY) had net inflows of more than $3.8 billion. The total assets in this one ETF swelled to over $167 billion!
This bellwether ETF is a good indication of investors' risk appetite. The large inflow of money is a clear indication investors believe stocks have the most upside at this point.
And it wasn't just SPY that enjoyed a large influx of money…
iShares Core S&P Mid-Cap (IJH) had net inflows of more than $1.8 billion last week. An indication that investors are expecting more than just the large cap stocks to benefit from continued low interest rates.
The Fed's outlook for interest rates is clearly being viewed as a positive for stocks. But at the same time, it's being viewed as a negative for bonds.
As a result, we saw a mass exodus out of ETFs that hold US Treasuries. The iShares 7-10 Year Treasury Bond (IEF) and ProShares Ultra 7-10 Year Treasury (UST) took the biggest hits. IEF lost $3.3 billion in assets while UST shed $1.2 billion.
The outflows cut the total assets in IEF by a third while UST lost more than two-thirds of its assets. Needless to say, the Fed's outlook caused some large investors to pull the plug on their safe haven investment.
The large inflows into stocks, coupled with large outflows from bonds, can only mean one thing… the 'risk on' trade is back in full swing.
That wraps up this week's ETF fund flows…
Keep in mind, there's a lot of information about ETF fund flows. And it can be a very useful tool as long as you know what you're looking for.
Good Investing,
Corey Williams
Category: ETFs, Market Analysis