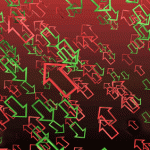 Over the last week, investors have jumped back on the US stock bandwagon.  More than $5 billion flooded back into stock ETFs, while bond ETFs saw money flow out.
ETF fund flows are a valuable indicator of what traders are thinking.  It takes a lot of buying or selling to drive millions or even billions of dollars into or out of individual ETFs.
Fund flows are something traders use to find trends and gauge investor sentiment.  And it can help you pinpoint which ETFs could be next to make a big move higher or lower.
PowerShares QQQ (QQQ) led all ETFs with $1.3 billion in net inflows last week. 
The Qs have bounced back quickly from the January selloff.  In fact, the fund is now up 2.2% year-to-date and at a 52-week high.
QQQ tracks a cap weighted index of 100 stocks listed on the NASDAQ.  It only invests in nonfinancial stocks.  The result is a fund made up of 56% tech stocks, 20% consumer discretionary, 15% health care, and the final 9% spread over consumer staples, industrials, materials, and telcom. 
This unique fund is not a true technology ETF.  But with top holdings like Apple (AAPL), Google (GOOG), and Microsoft (MSFT), it is often viewed as a technology ETF.  
The leadership of the QQQs in performance, as well as net inflows, is an indication of investors' bullish outlook.
In addition, the large outflow from Vanguard Total Bond Market ETF (BND) is further proof of investors' bullish outlook on stocks. 
BND tracks an index of investment grade taxable fixed income securities with maturities of longer than 1 year.  It is a large and liquid fund.  And is often used as a proxy for the broad US fixed-income market.
As you know, stocks and bonds typically move in opposite directions.  The outflow of money from bond ETFs at the same time as money is flowing to stock ETFs is a clear indication of bullishness toward stocks.
That wraps up this week's ETF fund flows…
Keep in mind, there's a lot of information about ETF fund flows.  And it can be a very useful tool as long as you know what you're looking for.
Good Investing,
Corey Williams
Category: ETFs, Market Analysis