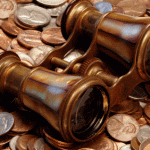 It's been a dreadful week… Decent people everywhere are horrified by the attack at the finish line of the Boston Marathon and the fertilizer plant explosion in West, Texas.
I find it hard to focus on the markets as these tragic events unfold live on television.  My heart goes out to everyone that has been affected by these events.
But nevertheless, the financial markets are open and next week is a critical week for the markets.  Here's the ETF you need to watch next week…
SPDR S&P 500 ETF (SPY)
This week large cap stocks pulled back from their recent highs.  And the S&P 500 is nearing a critical level of support.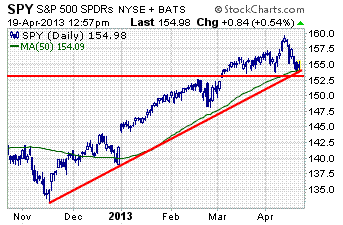 In fact, SPY is near three technical support levels – the uptrend connecting the lows of the uptrend that started back in November… the February highs… and the 50-day moving average.
Needless to say, this is a critical level for stocks.
If SPY rallies to start the week, the support levels held.  In short, it means the six month old stock market rally is alive and well.  And we'll likely see SPY make a quick run back to the recent highs.
However, if SPY stumbles out the gate, it will fall below support.  Breaking these technical support levels signal the end of the six month uptrend.  That's obviously bad news for the bulls.
Here's the thing… 
A break below these critical levels of support doesn't mean stocks are in trouble.  It simply means the uptrend is over.
From there, SPY has three options.  It could start a new uptrend, it could consolidate in a sideways fashion, or it could begin a new downtrend.
In my opinion, if SPY breaks below these critical levels, we're unlikely to see a new uptrend begin right away.  A period of sideways consolidation or more downside are more likely scenarios.
Needless to say, next week's a big week for stocks.  Keep an eye on SPY as it tests this critical level of support.  If the support level holds, we'll likely see SPY make another all-time high.  But if SPY breaks support, all bets are off.
Good Investing,
Corey Williams
Category: ETFs, Index ETFs, Market Analysis