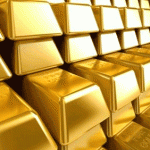 I know I'm going to get hate mail from some of you gold bugs out there, but I have to be honest – it's time to short gold.
Gold fell below $1,500 per ounce today.  The price of gold is now down more than 20% from the 2011 peak.  That puts the shiny yellow metal in bear market territory.
What's more, gold has fallen below the key technical support zone around $1,535.
But that's just the tip of the iceberg…
Investors were already selling gold ETFs like rats fleeing a sinking ship.  So far this year, investors have pulled a whopping $8.6 billion out the SPDR Gold Trust (GLD).
Don't forget, ETFs like GLD that buy and store physical gold were a major source of demand.  They helped fuel a 12 year bull market in gold.  But now that ETF investors are selling their GLD shares, the ETF is dumping physical gold on the market.
And it's only going to get worse…
As gold prices fall, more and more investors are going to pull the plug on their gold ETF investments.  It's a vicious cycle that's hard to break now that gold prices have fallen into bear market territory.
Many gold bulls are expecting the gold being sold by ETFs to be bought up by central banks of emerging market economies.  But there's a limit to how much they can absorb.
But here's the thing… it's not just ETFs dumping gold.
According to the details of the Cyprus bailout, the European Commission is forcing Cyprus to sell gold reserves to raise $400 million Euros.  Now, the amount of gold Cyprus is selling is small, but it sets a dangerous precedent.
Other EuroZone countries, like Italy and Portugal, are also heavily indebted.  If their central banks are forced to sell, it could create a tidal wave of gold that's impossible for the market to absorb.
In short, the forces that fueled a 12 year bull market in gold prices have reversed.  And a tidal wave of negativity is about to decimate gold prices.
At the very least, investors need to scale back their investments in gold.  And for traders that are looking to profit from falling gold prices, you can use an ETF like the ProShares UltraShort Gold (GLL).  It's designed to move twice as much and in the opposite direction of the daily performance of gold bullion.
Good Investing,
Corey Williams
Category: Commodity ETFs, ETFs, Inverse ETFs, Leveraged ETFs, What's Going On?