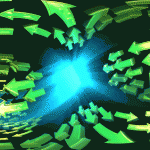 Donald Trump should get into the ETF business. According to research from Morgan Stanley in the past week long-term mutual funds posted accelerating outflows after Trump's election but ETFs recorded the strongest inflows since July. Morgan's figures come from data provider EPFR Global.
According to the flows data, last week there was a "sharp uptick in domestic equity fund outflows and sustained outflows in all other asset classes." Equity ETF inflows spiked, however, coming in at nearly $12 billion for the week to 9 November compared to outflows of $6 billion for domestic equity mutual funds.
According to figures from JP Morgan, flows into ETFs accelerated towards the end of the week. While data from Morgan Stanley and EPFR only goes up to 9 November, JP Morgan's figures got up to November 11 and show that $22 billion flowed into US equity ETFs over the three days prior to the report, which is not only three times larger than the outflow seen in the previous week before the election, but it presents the strongest 3-day buying streak since last January.
JP Morgan goes on to note that there was a "spectacular divergence across sectors" in ETF buying following Trump's election:
"Industrial, Healthcare, Technology and Financials equity ETFs saw inflows of between 3-7% of AUM over the past three days. Consumer Discretionary ETFs saw a big outflow instead followed by bond-like high-yielding defensive sectors such as Utilities, Consumer Staples and Telecoms. Commodity sector ETFs such as Energy and Materials ETFs saw modest inflows and Gold ETFs saw outflows instead."
Meanwhile, emerging market ETFs s saw outflows in both equity and bond space, as Trump policies such as trade and immigration restrictions are expected to have more negative impact on these markets.
High yield ETFs also saw strong inflows. As a percentage of assets under management, inflows surpassed those for overall US equity ETF's last week:
"HY ETFs also saw strong inflows, which in terms of AUM surpassed those for overall US equity ETFs. We argued last week that US HY ETFs looked oversold at the end of last week and thus were more at risk of short covering relative to US equity ETFs. Indeed Figure 3, which depicts the weekly change in the short interest for the biggest ETF in each major asset class, saw a big divergence between US HY ETFs which saw the biggest decline and EM bond ETFs which saw the biggest increase in the short interest over the past week."
Note: The author of this article is Rupert Hargreaves. He is a contributor to ValueWalk.com.
Category: ETFs