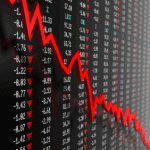 The impact of the Federal government shutdown finally hit Wall Street. 
The Dow Jones Industrial Average skidded to a 136 point loss yesterday.  Investors are worried that the budget stalemate will spill over into the more important act of raising the debt ceiling.
Nearly every economist agrees that if the US fails to meet its debt payments, it will trigger a recession.  So, needless to say, the stakes are high.
Let's take a closer look at three SPDR Sector ETFs leading the losses this week.  
Industrial Select Sector SPDR (XLI)
XLI is the worst performing Sector SPDR over the last week.  It's down 2.15% and it's now 3.8% below the 52-week high of $47.79.
It shouldn't come as a surprise that XLI is leading the way lower.  This ETF has large holdings of aerospace and defense companies that are dependent on government contracts.
For instance, United Technologies (UTX), which makes up 5.5% of XLI, says it may have to furlough 5,000 workers if the shutdown continues. 
The longer the government is shut down, the more of this type of thing we'll see from companies that work directly with the government. 
The good news is once an agreement is reached, XLI should bounce back quickly.
Consumer Staples Select Sector SPDR (XLP)
XLP is another ETF that's taken a hit this week.  It's down 1.8% this week and it's now 4.6% below the 52-week high of $41.66.
This ETF is loaded with stocks like consumer focused companies like Procter & Gamble (PG) 13.7%, Coca-Cola (KO) 9.4%, and Wal-Mart (WMT) 7.9%. 
This fund was already dealing with some headwinds before the shutdown.  So, it's hard to pin all of the blame on Washington for the recent poor performance. 
Dividend stocks in general have been hit hard by rapidly rising interest rates.  The dividends just don't look as attractive to income investors if you can actually make money on safer fixed income investments.
But the cold reality is lower income consumers, government employees that are currently out of work, and anyone being sent home by a private employer that depends on government contracts don't have as much money to spend as long as the government remains shutdown.
Materials Select Sector SPDR (XLB)
XLB has shed 1.7% this week.  The third worst performing Sector SPDR is now 3.7% off the 52-week high of $43.56.
It holds 31 stocks in the chemicals, metals & mining, paper & forest products, containers & packaging, and construction materials industries.
The recent weakness in XLB is troubling.  Materials had been one of the best performing sectors after the Fed's decision to delay the taper.
Needless to say, the government shutdown and the negative impact it will have on economic growth has clearly taken some of the wind out of XLB's sails. 
But it's not the end of the road for XLB…
Don't forget, global economic growth, especially in China and Europe, is on the upswing.  As a result, demand for materials is expected to pick up in coming months.
In my opinion, the government shutdown fueled pullback in XLB is a buying opportunity.  
Here's the upshot…
The government shutdown is hitting industries that are directly tied to government spending.  And the weakness is spilling over into stocks that could be hurt by a slowdown in consumer spending. 
But in the end, the shutdown is only temporary, and we should see XLI, XLP, and XLB bounce back once an agreement is reached… let's hope it's sooner rather than later.
Good Investing,
Corey Williams
Category: ETFs, Sector ETFs