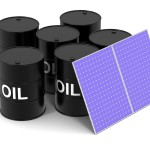 Investors are breathing a collective sigh of relief now that Washington has agreed to reopen the federal government and raise the debt ceiling.
And the stock market is once again on the upswing. 
The charge is being led higher by many of the same names that were hot before the whole brouhaha broke out in Washington.  Energy ETFs in particular are showing strong gains over the last week.
Let's take a look at two Energy ETFs hitting new highs today…
Guggenheim Solar ETF (TAN)
TAN is one of the top performing ETFs over the last week.  It's up 6.1% this week alone and up an eye-popping 147% year-to-date to a new split-adjusted all-time high.
There's no doubt about it, solar stocks are red hot.
TAN is getting a boost this week from Solar City (SCTY) and First Solar (FSLR).  The two combine to make up 11% of TAN's holdings. 
SCTY recently announced they're expecting annual installations of solar power to double from 278 megawatts in 2013 to 575 megawatts next year.  And FSLR just announced a new 250 megawatt contract to be built in California.
This ETF is composed of 29 solar stocks that are weighted according to their market capitalization and importance to the solar industry.  It has an expense ratio capped at 0.70% until December 31, 2015.
Needless to say, the strong growth in solar power installations has growth investors clamoring for more.
SPDR S&P Oil & Gas Exploration & Production (XOP)
XOP is another energy ETF hitting a new 52-week high today.  Over the last week, XOP is up 6.0%.  The recent surge pushed XOP within a few pennies of the all-time high of $73.04 set back on July 2, 2008. 
The rise in XOP comes despite a recent fall in oil prices.  WTIC crude oil has declined from around $110 per barrel this summer to around $100 per barrel today. 
Oil & gas explorations & production stocks are riding the wave of increased US production of oil and gas.  More specifically, the small and mid-cap companies that are working shale formations in North Dakota, Texas, and many other regions of the US are booming.
This ETF is composed of 75 oil & gas exploration and production stocks that are equally weighted.    It has an expense ratio of 0.35% and a dividend yield of 1.13%.
XOP is clearly the best ETF to play the boom in US oil production.
Here's the upshot…
TAN and XOP represent completely different segments of the energy industry.  But both of them are on the upswing because they share one important thing in common… growth.
And they should continue performing well as more solar power is installed and more oil is found and pumped out of US shale formations.
Good Investing,
Corey Williams
Category: ETFs, Sector ETFs