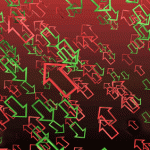 Today we're taking a look at ETF fund flows in Financial Select Sector SPDR (XLF) and iShares US Utilities (IDU).
ETF fund flows are a valuable indicator of what traders are thinking.  It takes a lot of buying or selling to drive millions or even billions of dollars into or out of individual ETFs.
Fund flows are something traders use to find trends and gauge investor sentiment.  And it can help you pinpoint which ETFs could be next to make a big move higher or lower.
Let's take a look at two sector ETFs that experienced large inflows or outflows last week…
Financial Select Sector SPDR (XLF) is seeing strong inflows.  It gained $604 million last week – more than any other sector ETF.
And for good reason…
If you exclude the large litigation charge from JPMorgan (JPM) in the third quarter, financial stocks are expected to grow earnings 14% year-over-year.  And fourth quarter earnings are expected to grow even faster at 24.5% year-over-year.
That's easily the highest earnings growth rate of any sector.  Investors are likely rotating money into XLF in hopes of strong 3rd and 4th quarter earnings propelling it higher.
XLF is currently trading for $20.91.  It's up 6.5% since October 9th.  And right at the 52-week high it set back in July.
A breakout above the previous high will likely bring even more money into XLF.
iShares US Utilities (IDU) experienced an outflow of $375 million last week.  The largest outflow among all sector ETFs.
The defensive and dividend paying sector has been stung by rising interest rates this year.  The 3.26% dividend yield on IDU isn't as attractive to income investors when the payouts on fixed income investments are rising.
As a result, the utilities sector has been the worst performing US sector over the last six months.  During that time, the S&P 500 has outperformed the utilities sector by nearly 16%!
Don't forget, utilities stocks had a great start to the year.  IDU surged 19% from January 1st to May 1st.  But it's been all downhill from there… IDU is down 5% from the 52-week high.
What's worse, IDU has set lower highs on each consecutive bounce.  In fact, IDU is sitting just below resistance of the downtrend line connecting the previous highs.
This could be the end of the road for the modest bounce in IDU over the last few weeks.  And it's likely the reason why investors are pulling money out of IDU.
That wraps up this week's ETF fund flows…
Keep in mind, there's a lot of information about ETF fund flows.  And it can be a very useful tool as long as you know what you're looking for.
Good Investing,
Corey Williams
Category: ETFs, Sector ETFs