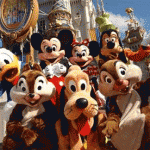 I can't believe it… The kids are out of school for the summer and our family vacation is just around the corner.
We decided to take the kids to Orlando, Florida for the Disney experience this year. I'm sure it will be a great trip with lots of memories made, but it's also going to be a little more expensive than I thought…
Walt Disney (DIS) has just announced a significant price hike. The cost to get into the park hit a new high of $99 for anyone over age 9!
I have to admit, they've got it down to a science. They hook you while you're young and they keep you coming back for more. Today's DIS runs the full gamete with cartoons, movies, and merchandising. It's all part of the Disney machine.
Get this…
Since 2003, the price of a single park ticket has more than doubled. And with theme park attendance at an all time high, Disney is jumping on the opportunity to make a little more to see Mickey.
As I'm sure you know, Disney has been around since the beginning of the century. And today they're a huge media conglomerate with a market cap of $142 billion.
What's more, back during the Great Recession, DIS made the decision to invest in massive improvements to their theme parks. They poured $3 billion into theme park overhauls. It takes guts and commitment to invest that much money when the world seems to be crumbling around them.
Today they're reaping the rewards of those investments.
Disney is the type of business that has a wide moat. It's clearly not going anywhere. Even better, diversify your Disney investment by investing in an ETF holding Disney stock.
Let's take a look at some ETFs holding Disney…
Consumer Discretionary Select Sector (XLY)
XLY is the ETF with the largest weighting of DIS. It makes up about 6.5% of the ETF's holdings.   At a current price of $64.57, it is up 2.04% this week. It's down about 3.0% so far this year, but over the last five years, it's up a whopping 211.2%!
This ETF is used to get exposure to a broad cross section of consumer discretionary stocks. You'll find companies from the media, Internet, restaurant, hotel, auto, retail, and consumer services industries.
XLY currently holds 85 stocks. Most of the stocks fall into the consumer cyclical sector, but 11.7% is considered communication. It has an expense ratio of 0.18% and a dividend yield of 1.29%.
iShares Morningstar Large-Cap Growth ETF (JKE)
JKE is another ETF that holds Disney. It makes up 2.5% of the ETF's holdings.
This ETF is focused on large cap growth stocks. In other words, this ETF holds stocks that are expected to grow at an above-average rate relative to the market.
At a current price of $102.27, JKE is up 2.1% just this week! And it's up 20.3% over the last year.
JKE currently holds 115 stocks and has an expense ratio of 0.25%. Its dividend payout is 0.94%.
This ETF primarily holds stocks from the technology and consumer cyclical sectors. In addition to Disney, JKE has several other major companies in its holdings like Apple (AAPL), Google (GOOGL), and Coca-Cola (KO)… just a few of the moneymakers in this ETF.
If you're looking for a good way to invest in DIS and other large cap growth stocks, JKE could be just what you're looking for.
PowerShares Dynamic Media (PBS)
PBS has around 5.4% of its holdings devoted to DIS. This ETF is composed of 30 US based media stocks. So it's not surprising to see a large media company like DIS as one of the top holdings.
At a current price of $24.01, PBS is down 10.3% in 2014. It is up 2.6% over the last week and it's up 15.9% over the last year.
Media stocks were one of the hottest growth sectors last year. But it has gone through a rough patch as investors took profits and rotated money out of growth stocks and into value and cyclical stocks.
This correction looks like a good buying opportunity to me. If you're looking for an ETF with DIS to buy on the dip, PBS should be right up your alley.
Here's the upshot…
I'm heading to Disney World just like millions of other people will this year. I'm sure I'll end up spending more than I planned, but the memories we make will be priceless… and that's exactly the sentiment DIS and other companies like it will continue to take to the bank.
Good Investing,
Corey Williams
Category: ETFs, Sector ETFs