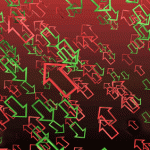 It's not too often that US Treasuries and the S&P 500 rally at the same time. But that's exactly what's happening right now.
Not surprisingly, fund flows into ETFs that hold large cap US stocks as well as those that hold Treasury bonds are moving in lockstep with one another.
These fund flows are a valuable indicator of what traders are thinking. It takes a lot of buying or selling to drive millions or even billions of dollars into or out of individual ETFs.
Fund flows are something traders use to find trends and gauge investor sentiment. And it can help you pinpoint which ETFs could be next to make a big move higher or lower.
Over the last week, the iShares 7-10 Year Treasury Bond ETF (IEF) and the SPDR S&P 500 (SPY) have been battling for the top spot on the list of ETFs with the largest inflow of money.
IEF edged out SPY with $3.4 billion in net inflows to SPY's $3.3 billion. One thing's for sure, that's some serious money any way you slice it…
The massive influx of money into SPY and IEF comes as both ETFs have broken out to new highs.
Needless to say, it's a bit unusual to see stocks and bonds rally at the same time. We typically see one or another with the upper hand at any given time.
What's behind the unusual price action?
If you guessed – government manipulation – give yourself a pat on the back.
You see, right now the European Central Bank is on the verge of introducing more stimulus. They're trying to fire up economic growth in the EuroZone.
They're expected to use the same type of quantitative easing that we've used here in the US. Additionally they're expected to get rid of some of the austerity measures that have been a drag on growth.
These moves by the ECB impact the entire global monetary system. The easy money policies in Europe make US bonds more attractive.
As money floods into US Treasuries, they go up in value and interest rates come down.
In other words, money is flooding into US Treasuries because they're more attractive relative to government bonds from other countries. And it's not because of fear or the perception that US Treasuries are a better investment than US stocks.
That gives us the unusual situation where US Treasures and US stocks rally together.
That wraps up this week's ETF fund flows…
Keep in mind, there's a lot of information about ETF fund flows. And it can be a very useful tool as long as you know what you're looking for.
Good Investing,
Corey Williams
Category: ETFs, Market Analysis