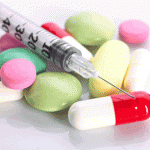 Owning shares of Mylan $MYL stock has been good for investors over the last month.  Shares of the generic drug maker are up 25% during that time.
That's good enough to make it one of the top performing stocks in the S&P 500.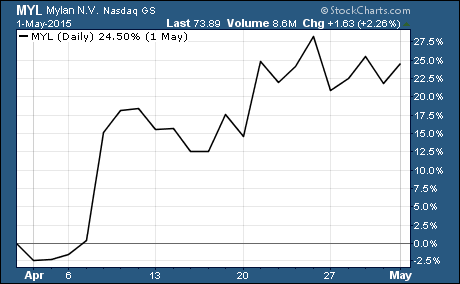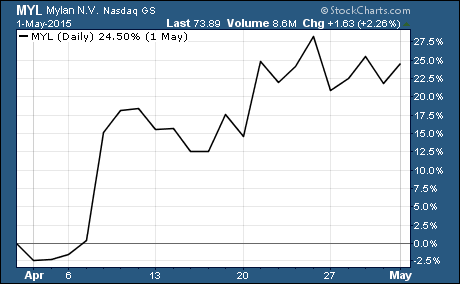 What's behind the recent uptick in shares of MYL?
MYL has found itself in the middle of a merger and acquisitions tug-o-war.
As you probably know, M&A activity is commonplace among generic and specialty drug makers.  Some of these alliances are formed in a spirit of cooperation while others are unsolicited or hostile takeovers.
MYL is currently is the middle to two unsolicited takeover offers.
A few months ago, Teva Pharmaceutical Industries $TEVA made a $40 billion offer for MYL.  An offer that MYL turned down.  Shortly after turning down TEVA, MYL made an unsolicited offer of their own for Perrigo $PRGO.
It's a bit unusual to see a company being pursued in one hostile takeover and pursuing a hostile takeover of their own.  It's even more unusual that both of these deals are being discussed in public.
But one thing's for sure, the speculation surrounding the outcome of these dealings has been great for shareholders.
Here's the thing…
M&A activity isn't going to slow down.  Companies like MYL, TEVA, and PRGO are built on M&A activity.  And as long as they have access to cheap money, they will continue to pursue deals to add new drugs to their pipeline and capture a bigger share of the market.
Needless to say, the bullish momentum and strong performance of drugs stocks has peaked many investors interest.    Let's take a look at some ETFs you can use to get exposure to MYL.
3 ETFs with Exposure to Mylan Stock…
The three ETFs with the largest weighting of MYL are focused on biotechnology and pharmaceutical stocks.
iShares Nasdaq Biotechnology ETF $IBB has the largest weighting of MYL at 5.55%.  iShares US Pharmaceuticals ETF $IHE has the second largest weighting of MYL at 5.00%.  And PowerShares Dynamic Pharmaceuticals Portfolio $PJP is next with a 4.19% weighting to MYL.
These three ETFs give investors a good way to invest in MYL and other stocks in the same industry.
You can find more ETFs like these using an ETF screener.
ETFs with Mylan Stock Expense Ratios… 
One way to differentiate these ETFs is based on expense ratio.
IHE has the lowest expense ratio at 0.45%.  IBB isn't much higher with an expense ratio of 0.48%.  And PJP has the highest expense ratio at 0.58%.
Don't forget, expenses eat into your returns.  So IHE and IBB have the edge over PJP based on their lower cost to own.
Other Holdings in the ETFs with Mylan Stock…
Another thing to consider is the stocks the ETF holds along with Mylan.
IBB is focused on biotech stocks.  It holds 150 biotech stocks that are listed on the NASDAQ.  MYL is the 6th largest holding in IBB.
IHE and PJP are both pharmaceutical ETFs.  But their holdings are very different.
IHE tracks an index of 41 pharmaceutical stocks.  MYL is the 7th largest holding in this ETF.
And finally, PJP is a smart-beta ETF that tracks and index of 25 pharmaceutical stocks.  MYL is in the middle of the pack as the 11th largest holding in this ETF.
These ETFs give investors three different ways to own shares of MYL through an ETF.
As M&A activity continues to sweep through the industry, all three ETFs should continue to perform well in the weeks and months ahead.
Here are some more ETFs to get exposure to other top performing stocks in the S&P 500.
Good Investing,
Corey Williams
Note: Corey Williams writes and edits ETFTradingResearch.com.  Sign up for our free ETF reports and free e-letter at http://www.etftradingresearch.com/free-sign-up.  We're devoted to helping you make more money from ETFs.
Category: Sector ETFs