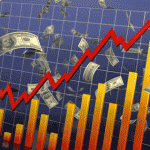 Last week we found out the US economy created 204,000 new jobs in October. 
The stronger than expected jobs report has spurred the S&P 500 into high gear.  As a result, the large-cap index is setting new all-time highs on a daily basis.
Let's take a look at three ETFs that are leading the market higher… 
SPDR S&P Pharmaceuticals ETF (XPH)
XPH is the top performing ETF over the last week.  At a current price of $86.70, XPH is up 9.2% this week alone and up an eye-popping 55% so far this year.
As the name suggest, XPH invests in stocks that are in the pharmaceutical industry.  It currently holds 32 stocks that are equally weighted.  It has a dividend yield of 0.73% and an expense ratio of 0.35%.
XPH has been surging higher thanks to a flurry of deal making among pharmaceutical and biotechnology companies.  And the deals are benefiting the buyer as well as those being bought.      
For example, Endo Pharmaceuticals (ENDP) is up 47% over the last month after the announcement of a deal to buy Paladin Labs for $1.5 billion.
And Santarus (SNTS) is up 39% after a deal was announced that they were being bought by Salix Pharmaceuticals (SLXP) for $2.6 billion.
Needless to say, the deal making in the pharma industry is spurring XPH higher.  
Guggenheim Solar ETF (TAN)
TAN's incredible run to the upside continues with a 6.39% gain over the last week.  At a current price of $40.72, it's now up an astounding 230% over the last year!
TAN holds 31 stocks and has an expense ratio of 0.70%.
The charge is being led higher by Chinese and US solar stocks.
And for good reason…
The introduction of solar leasing programs has boosted demand for small residential solar projects in the US.  And the Chinese government introduced a massive tax incentive for solar power that is boosting demand in China.
The estimates for global solar installations in 2014 and beyond seem to get bigger all the time.  This industry is clearly in growth mode again.
PowerShares NASDAQ Internet Portfolio (PNQI)
PNQI is another ETF that's been hot this week.  It racked up gains of 5.6% this week and it's now up 55% year-to-date to a new high of $64.86.
This ETF tracks an index of the largest and most liquid US companies that are engaged in internet-related businesses.   It uses a modified market capitalization-weighted methodology.  
It currently holds 81 stocks and has an expense ratio of 0.60%.
Internet stocks initially declined after the IPO of fellow internet company Twitter (TWTR) last week.  This was most likely because investors pulled money out of other internet companies in order to invest in TWTR. 
But internet stocks and PNQI have bounced back quickly.  And while TWTR isn't yet included in PNQI, it won't be long before it's added.  In fact, it has already been added to Global X Social Media (SOCL).
Here's the upshot…
There's clearly a lot of bullish momentum with the S&P 500 hitting all-time highs.  And the ETFs like XPH, TAN, and PNQI that have been hot this year are once again leading the markets higher. 
Good Investing,
Corey Williams
Category: ETFs, Sector ETFs