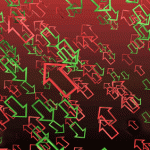 Today we're taking a look at ETF fund flows in US Sector ETFs and Emerging Markets ETFs.
ETF fund flows are a valuable indicator of what traders are thinking.  It takes a lot of buying or selling to drive millions or even billions of dollars into or out of individual ETFs.
Fund flows are something traders use to find trends and gauge investor sentiment.  And it can help you pinpoint which ETFs could be next to make a big move higher or lower.
Let's take a look at the ETFs that experienced large inflows or outflows last week…            
A handful of ETFs that focus on US sectors experienced strong inflows last week.  The Industrial Select Sector SPDR Fund (XLI) and Financial Select Sector SPDR Fund (XLF) led the way with $372 million and $336 million in net inflows.
These two ETF represent cyclical sectors that benefit from strong economic growth.
The large inflow of money into cyclical sectors is a clear indication of investors' optimism about the US and global economy.  And they have good reason to be optimistic…
Last week the Federal Reserve's report on industrial production showed manufacturing output increased for the third month in a row.  The 0.3% rise last month put manufacturing output up 3.3% from the same time last year.
And it's not just the US where output is increasing.  China reported October industrial production is up 10.3% over the last year.
The strong data is a clear indication of improving economic conditions.  And the inflow of money into economically sensitive sector ETFs bodes well for more upside in stocks.
All of the optimism about the world economy will eventually lead to the end of the Fed's monetary stimulus program and higher interest rates. The risk of rising interest rates has taken the wind out of the sails of ETFs that focus on emerging markets.
iShares MSCI Emerging Markets (EEM) and Vanguard FTSE Emerging Markets (VWO) both experienced large outflows last week.  EEM lost $1.4 billion and VWO lost $1.3 billion in assets.
The large redemptions of EEM and VWO are a clear indication that investors lack confidence in emerging markets.  And I can't blame them….
Emerging markets stock ETFs have reacted negatively every time the Fed has hinted they were nearing a point where they could begin to taper off their bond buying.  And if the economic data continues to show improvement, the Fed will begin to taper sooner rather than later.
At this point, the outflows indicate investors are anticipating more pain for emerging market ETFs.
That wraps up this week's ETF fund flows…
Keep in mind, there's a lot of information about ETF fund flows.  And it can be a very useful tool as long as you know what you're looking for.
Good Investing,
Corey Williams
Category: ETFs, Foreign Market ETFs, Sector ETFs