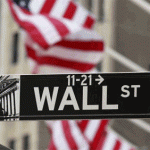 These are the dog days of summer… more often than not, this a quiet time of year for the financial markets.  And this year is no exception.
Now that we've passed the peak of earnings season, there's sure to be even more major players packing it in for a few weeks of vacation.  And I suggest you do the same.  Watching the market is akin to watching paint dry right now.
Frankly, we're seeing the same fundamental and technical factors driving the markets that we have for months on end…
Investors are focused on falling oil prices, slowing growth in China, strong US Dollar, sluggish corporate investment, and concerns about the timing of the first US interest rate hike in nearly a decade.
Not surprisingly, the latest AAII Investor Sentiment Survey reflects the lack of conviction among investors.  Their data shows that 44% of investors are neutral on stocks over the next six months.  And another 32% are bearish on stocks.
In other words, more than 75% of investors don't think stocks will finish higher than they are now by the end of the year.  That's not exactly a ringing endorsement of the US stock market.
And the price action is unchanging as well…
Technical August Stock Market Update
The S&P 500 has failed to break out of its trading range three times in as many months.  This trading range is the dominant force for lackluster returns.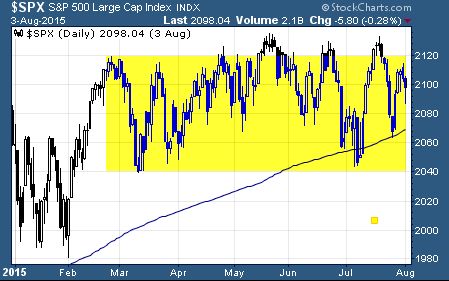 However, we have seen some sectors perform better than others.  For instance, the healthcare sector and certain parts of the consumer discretionary sector have been bright spots for large cap stocks.
The energy sector has been the big loser this year… it's down 13% this year.  Thankfully we've avoided trying to call a bottom in energy stocks and avoided being caught up in the latest downdraft.
Unfortunately, the materials sector has broken down.  The move was triggered by the US Dollar strengthening and commodity prices falling.
Fundamental August Stock Market Update
The latest batch of data on the US economy has been solid.
The strength of the US economy can be seen in the job creation, payrolls, and unemployment data.  We're even seeing wages start to move higher in recent months.
But consumers aren't spending money like crazy.  They continue to purchase big ticket items like cars and homes.  They're even spending more money dining out at restaurants and bars.  But overall consumer spending growth is still lackluster at best.
What's more, falling oil and commodity prices are a disruptive influence among materials and industrial.  And the strength of the US Dollar hurts large corporations that make lots of money outside the US.
And through it all, the US Fed continues to hint at the first US interest rate hike in nearly a decade will come sometime this year.
Key Takeaway From August Stock Market Update
Right now, investors are taking a wait and see approach.
There's nothing in the price action or fundamental data to get overly excited about… the sluggish US consumer, volatility in currencies and commodity prices, and an imminent US interest rate hike have seen to that.
What's more, many investors are simply moving money out of US stocks and into international stocks.  This has been a major theme we have been tracking in ETF fund flows for nearly a year now.
It's hard to say where US stocks go from here in the short term.
But don't forget that nearly 75% of US investors aren't expecting US stocks to move higher this year.  We typically only see 60% of investors in this camp at any given time.
That means we'll likely see 15% or 20% of investors turn bullish on stocks in the next few months.  When that happens, it will bring more buyers and more money into the market.
In short, there's a lot of firepower on the sidelines right now.  As these buyers come back into the market, it should propel stocks to finish higher for the year.
Good Investing,
Corey Williams
Note: Corey Williams writes and edits ETFTradingResearch.com.  Sign up for our free ETF reports and free e-letter at http://www.etftradingresearch.com/free-sign-up.  We're devoted to helping you make more money from ETFs.
Category: Market Analysis