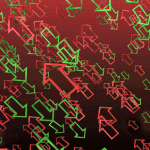 ETF assets grew in July even as investors became more fearful and their outlook for stocks dimmed.  The $23 billion in July ETF fund flows puts ETFs on track to meet or exceed the record inflows in 2014.
ETF fund flows are a valuable indicator of what traders are thinking.  It takes a lot of buying or selling to drive millions or even billions of dollars into or out of individual ETFs.
Fund flows are something traders use to find trends and gauge investor sentiment.  And it can help you pinpoint which ETFs could be next to make a big move higher or lower.
Let's take a look at the June ETF fund flows and other sentiment indicators for clues to the market's next move.
The Emotion Driving July ETF Fund Flows…
There's no doubt about the dominant emotion on Wall Street.  There are signs of fear everywhere these days.
For instance, one way to look at the overall strength of the market is to compare the number of stocks at 52-week highs and 52-week lows.
In times of greed, the number of stocks at 52-week highs will exceed the number of stocks at 52-week lows.  In times of fear, the number of stock at 52-week lows will exceed the number of stocks at 52-week highs.
We track the changes in the number of stocks at highs and lows over time.  The changes reflect the changing emotion of investors.
Right now the number of stocks at 52-week lows exceeds the number of stocks at 52-week highs by one of the widest margins in the last year.
In other words, there are fewer stocks contributing to any upside move in the stock market while more and more stocks find themselves dragging the market lower.
Needless to say, it's hard for the overall market to move higher when more stocks are hitting new lows than new highs.  And it's a sign that investors are fearful of owning anything but the strongest and most stable stocks.
ETFs With The Largest Inflows In July…
The dominance of fear was reflected in the July ETF fund flows.  ETFs that hold large cap US stocks enjoyed the largest net inflows in July.
In fact, three ETFs that hold the S&P 500 from different ETF fund families were among the top net asset gainers in July.  SPDR S&P 500 $SPY, Vanguard S&P 500 $VOO, and iShares Core S&P 500 $IVV collectively had net inflows of nearly $5 billion in July.
Large cap US stocks are considered some of the safest stocks you can invest in because they're massive companies with strong balance sheets and generate lots of cash flow.
This was the first time in six months that ETFs holding international stocks weren't at the top of the list of largest net inflows.  However, we did see one currency hedged ETF among the largest inflows.  Deutsche X-trackers MSCI EAFE Hedged Equity ETF $DBEF had $994 million in net inflows.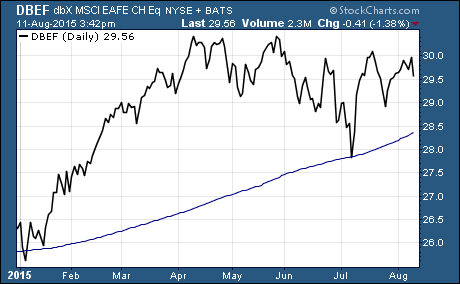 ETFs With The Largest Outflows In July…
ETFs with large net outflows in July are the most telling sign of fear among investors.  The largest outflows hit ETFs that hold emerging markets, small-cap stocks, and gold.
Emerging markets and small cap stocks are riskier than large cap US stocks.  And they're usually among the first stocks investors sell when they become fearful.
What's more, investors continued to dump shares of the SPDR Gold ETF $GLD.  Gold prices are down 16% in the last year and they're down more than 40% since the 2011 peak.
Gold is clearly no longer the 'safe haven' many proclaim it to be.  It's being sold off just like other risky assets that are out of favor with investors.
Here's the bottom line…
Fear is the dominant emotion driving investors' actions.  It can be seen in the drop off of stocks at 52-week highs and increased numbers of stocks at 52-week lows.  It can also be seen in the July ETF fund flows.
Despite the pervasiveness of fear, a small number of strong stocks have been able to keep US stocks from taking a nosedive this year.  The S&P 500 is up more than 3% year-to-date.
One thing to keep in mind… emotion moves like a pendulum between fear and greed.  These extreme levels of fear are often followed by periods of extreme greed.
Good Investing,
Corey Williams
Note: Corey Williams writes and edits ETFTradingResearch.com.  Sign up for our free ETF reports and free e-letter at http://www.etftradingresearch.com/free-sign-up.  We're devoted to helping you make more money from ETFs.
Category: Market Analysis