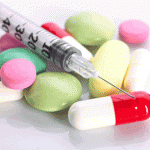 Over the last few months, we've seen some incredible volatility in the biotech industry.
Nothing has been immune to the volatility. Not even the stable large cap biotech stocks or the ETFs that track the industry.
From the February high to the April low, the iShares Nasdaq Biotechnology ETF (IBB) dropped nearly 25% in just eight weeks. Right now IBB is down 18% from the February high, but it's now up 10% from the April low.
Needless to say, that's some serious volatility. If you're looking for a way to play many of the same trends that have driven biotech stocks higher without all of the volatility, take a look at pharmaceutical ETFs.
After all, many biotech companies end up partnering with a bigger drug maker to actually produce and take their drug to market.
Let's take a closer look at three pharmaceutical ETFs…
iShares U.S. Pharmaceuticals (IHE)
IHE is one of the top performing Pharma ETFs with a current price of $127.50. It shows positive returns and is up 8.20% this year and 25.32% on a 1-year return.
The iShares U.S. Pharmaceuticals index measures the performance of the pharmaceuticals sector of the U.S. equity market.
IHE currently holds 38 stocks and has a 0.48% expense ratio. It has a dividend yield of 0.96%.
The majority of stocks in this ETF come from the US, but 7% of the holdings do come from foreign companies.  It represents the Healthcare sector and holds major U.S. pharmaceaticul companies. These companies include Johnson & Johnson (JNJ), Pfizer (PFE), and Bristol-Myers Squibb (BMY).
PowerShares Dynamic Pharmaceuticals (PJP)
PJP is another top performing Pharmaceutical ETF.  At a current price of $56.91, it's basically flat this week despite the market's lackluster performance. Last year this ETF racked up an impressive 32.8% return.
As with many of the PowerShares ETFs… this is a smartbeta ETF. It's designed to provide financial growth by evaluating companies based on stock valuation, investment timeliness, growth, and risk factors.
PJP holds 30 US stocks in the Healthcare sector. It has an expense ratio of 0.60% and a dividend yield of 0.39%. The top holdings include companies like Johnson & Johnson (JNJ), Merck (MRK), and Eli Lilly (LLY).
RBS Global Big Pharma ETN (DRGS)
DRGS is another top performing fund in this industry. However it's not an ETF, it's an ETN.
Its current price is $48.50 and it's up 3.6% this week. Over the last year, it has an impressive 39.9% return. That's significantly better than many of the more popular pharmaceutical ETFs.
The RBS Global Big Pharma ETN Index tracks the performance of the equity securities of a cross-section of global companies in the development and production of pharmaceuticals.
And it has a reasonable expense ratio of 0.60%.
Here's the upshot…
The volatile world of biotech investing can be too much for some investors to stomach. If the recent ups and downs in biotech ETFs have you looking for a safer way to profit from the biotech market, take a look at these pharmaceutical ETFs.
Good Investing,
Corey Williams
Category: ETFs, Sector ETFs