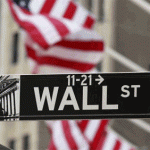 I went shopping at Costco $COST the day after Halloween.  As soon as I walked through the door, I was met by the friendly greeter checking to make sure everyone had their membership cards.
I was also greeted by massive displays of Christmas decorations.  That can only mean one thing… the holidays are here and the New Year isn't far behind.
It's the time of year that many investors reevaluate and make changes to their investment portfolio.  If you're looking for the cheapest way to own US stock, then you need to be looking at ETFs.
And for those of you already in a low cost US Stock ETF, there's a new king of the hill among low cost US stock ETFs.
The Old Low Cost Stock ETF Leader
An ETF with broad US stock exposure is a core holding for many investors.  Owning an ETF with the lowest expense ratio is a good way to make sure more of your profits end up in your pocket.
Schwab US Broad Market $SCHB, with an expense ratio of 0.04%, had the honor of being the lowest cost broad US stock ETF.  It holds 2,500 of the largest US stocks.  And you can trade it commission free if you have an account with Schwab $SCHW.
Many investors have gravitated to the low cost ETFs at Schwab.  So far this year, SCHB has net inflows of $820 million.  And it has seen assets soar by $2 billion since the beginning of 2014.
Not surprisingly, a price war has broken out among ETF providers that are competing on price.  We've seen the cost of ETFs fall year after year.
A New Low Cost Stock ETF For 2016 
BlackRock recently slashed the cost of several of their "iShares Core" ETFs.
The expense ratio of the iShares Core S&P Total Stock Market ETF $ITOT was slashed to just 0.03%.  That makes it the cheapest ETF to get exposure to the US stock market.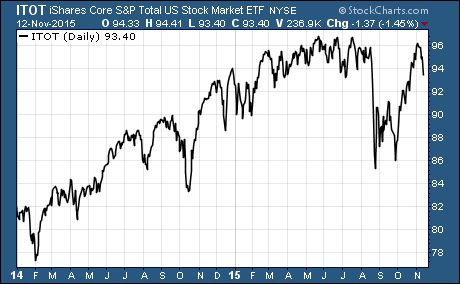 ITOT holds 1,500 US stocks.  It's a combination of the S&P 500, S&P 400, and S&P 600 indices.  That covers the most popular large-, mid-, and small-cap US stocks.
Since the beginning of 2014, ITOT has grown assets by $1.5 billion.  But it has lagged behind the inflows of Schwab's low cost ETF.
Blackrock is clearly looking to grab an even bigger piece of the ETF asset pie with this move to lower expenses on ITOT and other ETFs.  And if you're looking for the lowest cost ETF to own US stocks, there's no reason to pick any other ETF.
Good Investing,
Corey Williams
Note: Corey Williams writes and edits ETFTradingResearch.com.  Sign up for our free ETF reports and free e-letter at http://www.etftradingresearch.com/free-sign-up.  We're devoted to helping you make more money from ETFs.
Category: What's Going On?