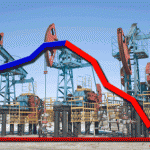 The biggest story in the second half of 2014 was the dramatic drop in oil prices.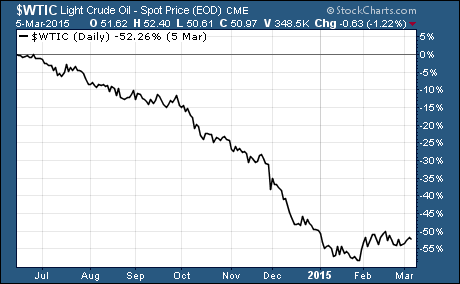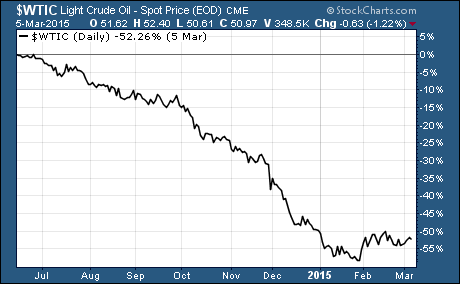 As you can see, oil prices fell more than 50% during that time.  You can also see that crude oil ETFs have recently rebounded off their lows.
The best crude oil ETF to own over the last year was the VelocityShares 3x Inverse Crude Oil ETN (DWTI).  This leveraged exchange traded product is up a whopping 263% over the last year.
But you didn't need to use a leveraged ETF to make some serious money on the drop in oil prices.  The United State Short Oil Fund (DNO) that doesn't use any leverage is up 71% over the last year.
However, oil prices have begun to stabilize over the last few weeks.
The best crude oil ETFs to own over the last week is the VelocityShares 3x Long Crude ETN (UWTI) that's up 11%.  And even the non-leveraged United State Oil Fund (USO) is up nearly 4% in the last week.
The fundamentals of the best crude oil ETFs…
Right now supply of oil is outpacing demand.  Storages are filling up and oil producers are renting oil tankers to store oil at sea.
US oil production has skyrocketed over the last few years.  New technologies like fracking have pushed US oil production to all-time highs.
At the same time, weak global economic growth, alternative energy sources, and increased fuel efficiency have curbed the growing demand for oil.
In other words, there's a major oil glut.
These are the fundamentals that led to the selloff in oil prices last year.
Now oil producers are cutting the number of rigs in production and drilling for new oil.  The falling global oil rig count has helped oil prices stabilize over the last few weeks.
The technicals of the best crude oil ETFs… 
The chart of USO shows the dramatic selloff that dominated crude oil prices in the second half of 2014 is over.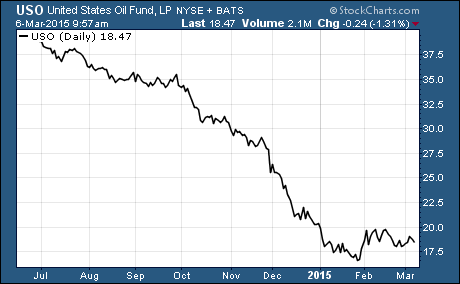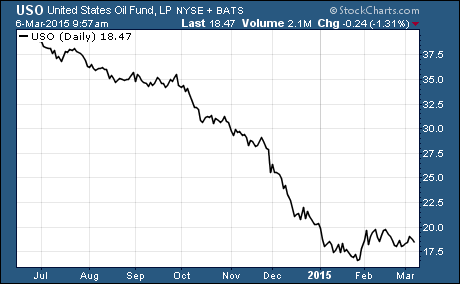 Now USO is in a trading range between $17.50 and $20.00.  A breakout from this trading range will be necessary to confirm the next directional move.
What's next for crude oil ETFs? 
There's no way to say if oil prices have bottomed for sure.  The fundamental and technical picture for crude oil remains clouded with uncertainty.
We do know that crude oil is entering into a seasonally bullish time of year.  March to September is when we have seen crude oil prices rack up their biggest gains in the past.
Good Investing,
Corey Williams
Note: Corey Williams writes and edits ETFTradingResearch.com.  Sign up for our free ETF reports and free e-letter at http://etftradingresearch.com/free-sign-up. We're devoted to helping you make more money from ETFs.
Category: Commodity ETFs