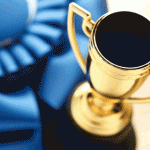 There's no doubt 2013 was a great year for US stocks. 
Every sector from utilities to technology logged a gain for the year.  And just about every size of stock from the micro-cap indexes to the blue chip index are at record highs.
The bullish momentum continued right up through the end of the year when the S&P 500 finished at an all-time high of 1,849.  Clearly, the Santa Claus rally delivered like it has time and time again.
Let's take a look at the three best performing ETFs over the past month… 
First Trust Global Wind Energy (FAN)
FAN's 12% gain over the last month was the top performance of any non-leveraged or inverse ETF. 
This ETF holds 47 stocks of companies that are exclusively or significant participants in the wind energy industry.  The biggest players in this industry are international companies like Vestas Wind Systems, Iberdrola, and Nordex. 
FAN gives US investors a simple way to invest in these foreign stocks.
It also holds US companies like General Electric (GE) that manufactures turbines and Duke Energy (DUK), a utility that generates electricity from wind power. 
2014 is pegged to be a big year for wind energy as new projects come online and offshore wind generation plans are put into place.  
Market Vectors Junior Gold Miners (GDXJ)
GDXJ's 11% gain over the last month makes it the second best performing ETF.
GDXJ has suffered over the last year due to the dramatic drop in gold prices.  But an uptick in gold prices to start the year helped GDXJ start the new year off on a positive note. 
This ETF focuses on small and medium-sized companies that generate 50% of their revenue from gold and silver mining or hold real property that has the potential to produce gold and silver when developed. 
Needless to say, the 79 stocks GDXJ holds are speculative investments.  And with the outlook for gold prices to continue to fall in 2014, I'd be wary of jumping on this bandwagon. 
Even if you think gold will rebound this year, you're better off owning the physical metal than GDXJ.   
Market Vectors Solar Energy (KWT)
KWT's 10.5% gain over the last month puts its performance in the top three ETFs.
Seeing two alternative energy ETFs in the top three over the last month isn't surprising.  2014 is pegged to be a banner year for wind and solar energy alike.
Investors are clearly buying up shares of their favorite alternative energy companies to profit from the coming surge in new projects this year.
KWT gives a broad exposure to 34 different solar companies.  In order to be included in this ETF, a company must generate 66% of their revenue from solar power or related products and services. 
Here's the upshot…
Alternative energy ETFs were the big winner in the Santa Claus rally this year.  And the outlook for wind and solar in the 2014 is bright.
 Good Investing,
Corey Williams
Category: ETFs, Sector ETFs