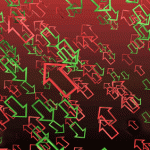 Today we're taking a look at the ETFs with largest inflows or outflows in 2013.
ETF fund flows are a valuable indicator of what traders are thinking.  It takes a lot of buying or selling to drive millions or even billions of dollars into or out of individual ETFs.
Fund flows are something traders use to find trends and gauge investor sentiment.  And it can help you pinpoint which ETFs could be next to make a big move higher or lower.
SPDR S&P 500 (SPY) had the most net inflows of any ETF in 2013.
SPY collected nearly $16 billion in new capital last year and has a whopping $173 billion in assets under management today.  That's more than three times as many assets as the next biggest ETF.  SPY is clearly the king of the ETF world.
It's not surprising SPY is a popular ETF.  After all, the S&P 500 was up more than 30% last year.
The biggest question is this…
Are these flows likely to continue in 2014 or are investors simply chasing performance?
It's likely a little bit of both.  For the most part, investors like to put their money into investments that are performing well.  They see an investment is hot and will put money into it in hopes that it continues to perform well.
But there's also a lot of smart money that uses SPY to get exposure to US stocks.  And the fact that SPY has continued to add assets is at least an indication they're not dramatically reducing their exposure to US equities.
What's more, with interest rates on the rise, money will continue to flow out of bonds.  And a good portion of that money will likely find its way into SPY and other stock funds.
Simply put, the combination of performance chasing behavior of investors, rising interest rates, and accelerating economic growth will keep money flowing into SPY in 2014.
The ETF with the biggest outflow is 2013 was SPDR Gold Shares (GLD).
GLD lost a whopping $25 billion in assets last year.  That's nearly half of all assets GLD began the year with.  It now has $31 billion in assets under management.
The massive outflow from GLD was spurred on by the worst year for gold prices in more than a decade.  The share price of GLD dropped 28% from $163.49 to begin the year and finished the year at $116.12.
Needless to say, gold's big losses fly in the face of the theory the shiny yellow metal is a store of value.  Clearly, gold was in a speculative bubble.
The good news for diehard gold bugs is that the speculators have been knocked out of the market.  And gold still has a place in a diversified portfolio.  So the steep selloff in 2013 is unlikely to be repeated in 2014.
That wraps our look at the biggest inflows and outflows of 2013…
Keep in mind, there's a lot of information about ETF fund flows.  And it can be a very useful tool as long as you know what you're looking for.
Good Investing,
Corey Williams
Category: ETFs, Market Analysis