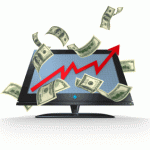 After months of hints and mixed messages, the Fed began to taper this week.
The message from Fed Chairman was widely believed to signal the end of the year long stock market rally.  But a funny thing happened after the announcement… stocks rallied!
In fact, the S&P 500 closed at a new all time high of 1,810 on the day the taper was announced.  A look at the performance of the nine Sector SPDR ETFs relative to the S&P 500 over the last week reveals an extremely bullish trend.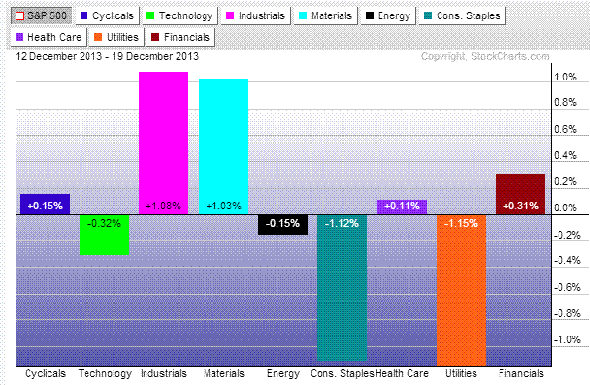 As you can see, the cyclical industrials and materials sectors led the S&P 500 higher while defensive sectors, like consumer staples and utilities, lagged behind.
Why are investors buying economically sensitive stocks?
The Fed's announcement of a $10 billion cut in monthly bond purchases was delivered with a change in their forward guidance.  More specifically, the Fed ditched their 6.5% unemployment target for when they could begin to raise interest rates.
Now the unemployment rate would need to fall well past 6.5% and inflation needs to increase back towards their 2% target before they begin to raise interest rates.
In short, that pushes the target date for the Fed to begin raising interest rates out from 2014 to at least 2015.    
Needless to say, keeping short term interest rates near 0% for another year should help boost economic growth.  That should benefit sectors like industrials and materials that are more sensitive to economic conditions.
Here's the upshot…
At this point in the business cycle, the name of the game is growth.  Businesses that can grow their top line, as well as the bottom line, stand to be the biggest winners going forward.
That bodes well for more upside in Materials Select Sector SPDR (XLB) and Industrial Select Sector SPDR (XLI). 
Good Investing,
Corey Williams
Category: ETFs, Sector ETFs