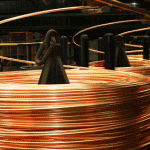 In today's ETF showdown, we're taking a look at Copper Miners ETFs.
Any discussion about copper mining stocks starts with a discussion about the price of copper.  And the last three years haven't been pretty for copper prices.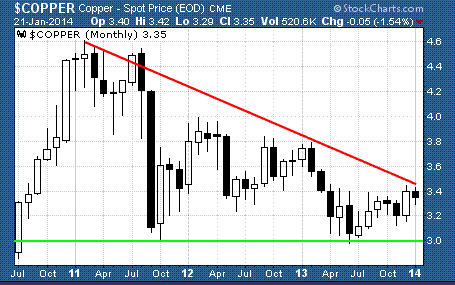 Simply put, that's a chart of a bear market. 
As you can see, the price of copper dropped 36% from the high of $4.65 in February 2011 to a low of $2.98 last June.  And even after a 12% rally off the June lows, copper remains trapped below resistance of the long-term down trend (red line).
The one positive take away from this long term chart is copper has put in a floor of support around $3.00 (green line).  It would take a serious disruption in the copper market or the world economy to trigger a drop below this level.
The question this chart raises in my mind is this…
Will copper break out above resistance?  Will it continue to trade in a narrowing range between support and resistance?  Or will it fall through support and make a new low?
This is the point where technical analysis ends and the fundamentals begin.
The main reason for the decrease in copper prices over the last three years is an oversupply of copper.  However, stockpiles of copper have fallen to a 12-month low and according to a forecast by Bloomberg, the supply glut many expected to hit the market in 2014 isn't materializing. 
What's more, sectors like manufacturing and construction that use lots of copper are on the upswing.  So demand for copper will likely run ahead of estimates as well.
Long-term there are lots of new copper mining projects that will add new supply to the market.  But most of those projects are still a few years away from coming online.
Over the next few quarters, we could see supply and demand dynamics change quickly.  It could trigger a breakout in copper prices above resistance and bring an end to the three year bear market in copper prices.  That's great news for copper miners.
Let's take a look at the two Copper Miners ETFs you can use to profit from the coming rebound in copper prices.
Global X Copper Miners ETF (COPX) currently trades for $9.36.  It's down 29% over the last year.  But COPX has rallied 9.3% over the last month. 
COPX has an expense ratio of 0.65%.  And it has a dividend yield of 0.7%.   
This ETF tracks the Solactive Global Copper Miners Index.  It is made up of 25 stocks.  The majority of the stocks are foreign companies.
First Trust ISE Global Copper Index Fund (CU) is the ETF that's devoted solely to copper mining stocks. 
At a recent price of $22.18, CU is down 27% over the last year.  And it has rallied 7.2% over the last month. 
It has an expense ratio of 0.70% and has a dividend yield of 3.08%. 
CU tracks the ISE Global Copper Index.  It currently holds 24 stocks.  It weights stocks according to the revenue generated from copper mining.  As a result, it gives a much larger weighting to bigger and well known names in the copper mining industry. 
Here's the bottom line…
Copper prices bottomed around $3.00 in 2013.  And they've rallied over the last month.  If they break out above the downtrend, the price of copper could rally in the weeks ahead.
The two copper mining ETFs, CU and COPX, could see a nice rally as well.  Just remember they track different indexes and the weighting of the holdings is very different.
Good Investing,
Corey Williams
Category: Commodity ETFs, ETFs, Sector ETFs