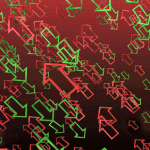 The first interest rate hike from the Fed didn't deter ETF investors from putting money into ETFs that hold US stocks.  The December ETF Fund Flows show the ETFs holding US large cap stocks saw the biggest inflows during the month.
Let's dive into the details of the December ETF fund flows and other sentiment indicators that are driving the market action.
The Emotion Driving December ETF Fund Flows
We track several indicators of fear and greed.  During December, we saw indicators of fear in the market outweighing greed.
The most notable of these indicators was simply the weakness of stocks.  The market lacks bullish momentum and more stocks are hitting 52-week lows than are at 52-week highs.
What's more, the safest bonds are outperforming stocks, while junk bonds are being routed.
After a few months devoid of bullish momentum and a lack of fear, we are seeing investors become increasingly fearful of another market downturn.
ETFs With The Largest Inflows In December
At the end of weak year for US stocks, we saw portfolio rebalancing and tax loss harvesting push money into ETFs that hold US stocks.
The SPDR S&P 500 $SPY led all ETFs with net inflows of $7.7 billion in December.
The trend toward broad based stock ETFs continued with the iShares MSCI EAFE $EFA and iShares MSCI EMU $EZU that had inflows of $2.7 billion and $1.7 billion.
That's $12 billion in net inflows into three ETFs that give broad exposure to large-cap stocks in the US, Europe, and other developed markets.
ETFs With The Largest Outflows In December 
The most insightful bit of inflow and outflow data comes from the large outflows from two currency hedged ETFs.  
WisdomTree Europe Hedged Equity $HEDJ had net outflows of $1.9 billion and WisdomTree Japan Hedged Equity $DXJ had net outflows of $924 billion.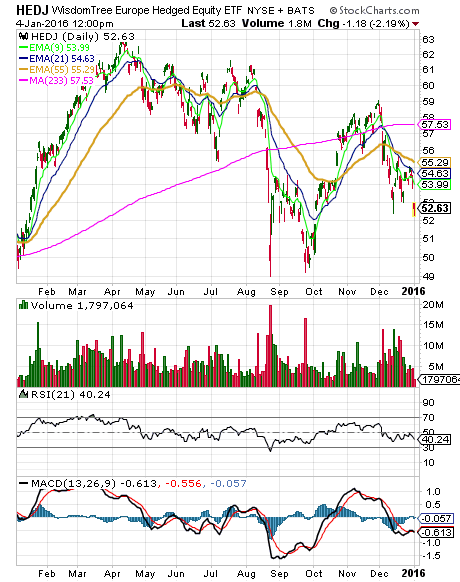 HEDJ and DXJ provide US investors with exposure to European and Japanese stock markets while hedging out exposure to currency fluctuations.
These ETFs will outperform ETFs that holds stocks in these foreign markets without a currency hedge when the US Dollar is strengthening relative to the local currency.
The large outflow from these ETFs could be a sign that some investors believe the US Dollar could weaken relative to the Euro and Yen in 2016.
Here's the bottom line…
End of year rebalancing helped send a wave of money into broad based large cap stock ETFs.  But these inflows don't show any particular market or investment to be the favorite choice for investors.
We do know that fear of another downturn in US stocks is quickly becoming the dominant force on Wall Street.  These red flags could be a signal that stocks will get off to a slow start in 2016.
Good Investing,
Corey Williams
Note: Corey Williams writes and edits ETFTradingResearch.com.  Sign up for our free ETF reports and free e-letter at http://www.etftradingresearch.com/free-sign-up.  We're devoted to helping you make more money from ETFs.
Category: Market Analysis